Artist Projects
The Commons works with artists to offer a platform for innovative, experimental, interdisciplinary installations, performances, or other artist projects. Visiting artists create site-specific projects that incorporate and directly respond to the space of The Commons, exhibit strong interdisciplinary elements addressing exploratory themes, and build upon knowledge in the arts, humanities, and sciences.
Fereshteh Toosi, Artist in Residence November 5-9, 2022
Fereshteh Toosi designs experiences that pose questions and foster animistic connections through encounter, exchange, and sensory inquiry. Their artwork involves documentary processes, oral history, and archival research. Immersive performances are produced in conjunction with small sculptures, short films, installations, scores, and poetry.

While in residence at KU, Toosi will host a collaborative workshop with students that centers public reading and listening of poetry, using geolocated audio augmented reality.

Toosi is an Assistant Professor in the Art and Art History Department of the College of Communication, Architecture, and the Arts at Florida International University in Miami. 

Supported by The Commons and the Department of Visual Art, and hosted in conjunction with Megan Kaminski's Advanced Poetry class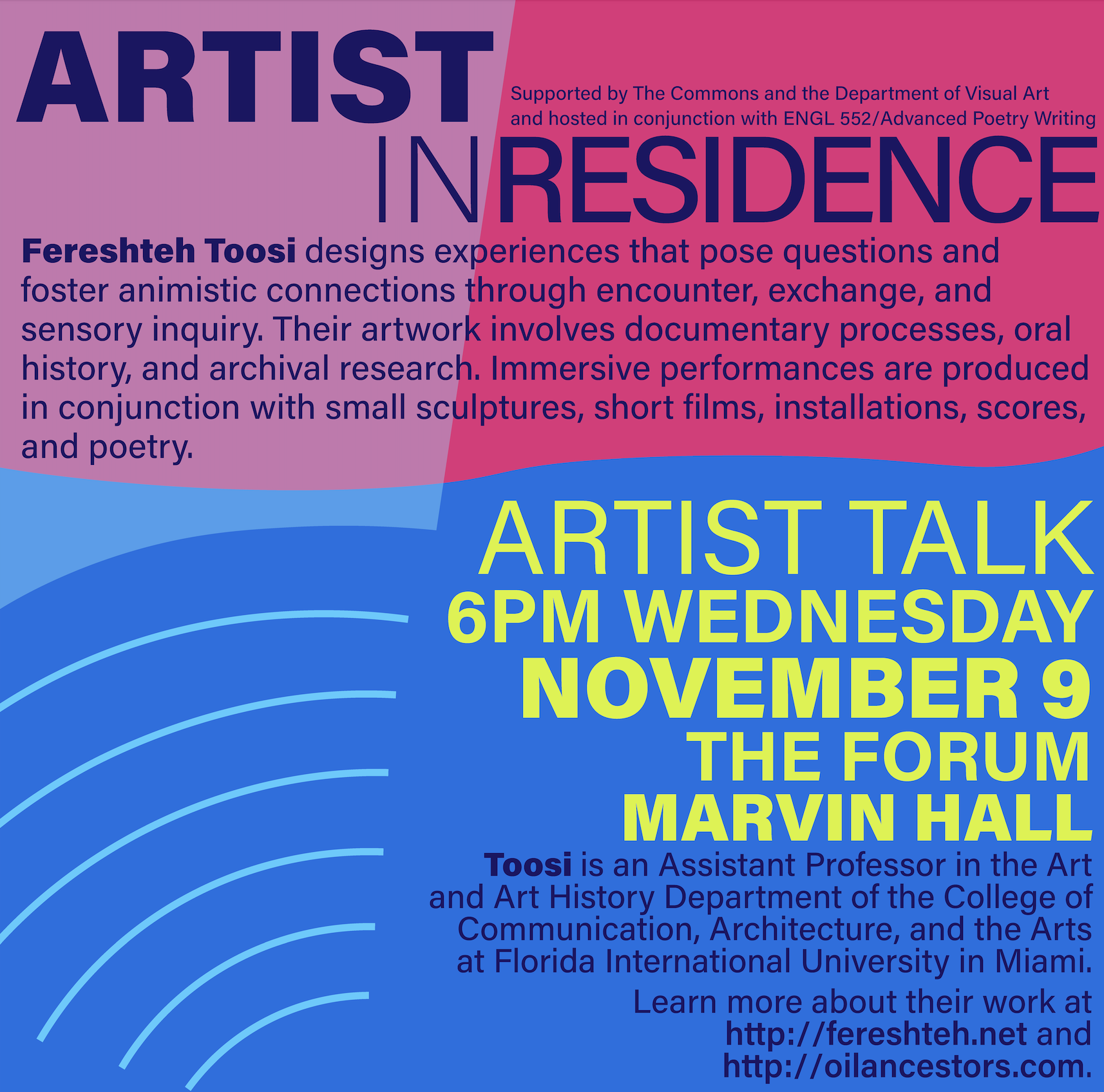 Heather Harpham, Artist in Residence March 23-26, 2015
Heather Harpham is a writer, performer and teacher of physical theater/improvisation. She is a Senior Teacher of Action Theater, a physical improvisation form, which synthesizes her early training in both theater and writing. Physical improvisation continues to be a generative source for her solo performances and collaborations. Together with Cassie & Danny Tunick, Harpham performs as part of the improvisational dance/theater company Second Nature. She is also a core member of the critically acclaimed physical theater group, Company SoGoNo. Artist Talk 5:30pm Monday, March 23 | The Commons Coffee @ The Commons 10:00am Tuesday, March 24 | The Commons Workshop Demonstration 5:30pm Wednesday, March 25 | The Commons with THR 302 Undergraduate Seminar Performance 7:30pm Thursday, March 26 | Baustian Theatre - Murphy Hall Burning is a highly kinetic, semi-comic romp through the landscapes of climate change where comedy, tragedy, activism, and cautious optimism collide. Using movement, song, monologue, and other imagery, it invokes Hurricane Sandy, our obsession with apocalyptic film, and countless other things that preoccupy us while Rome burns.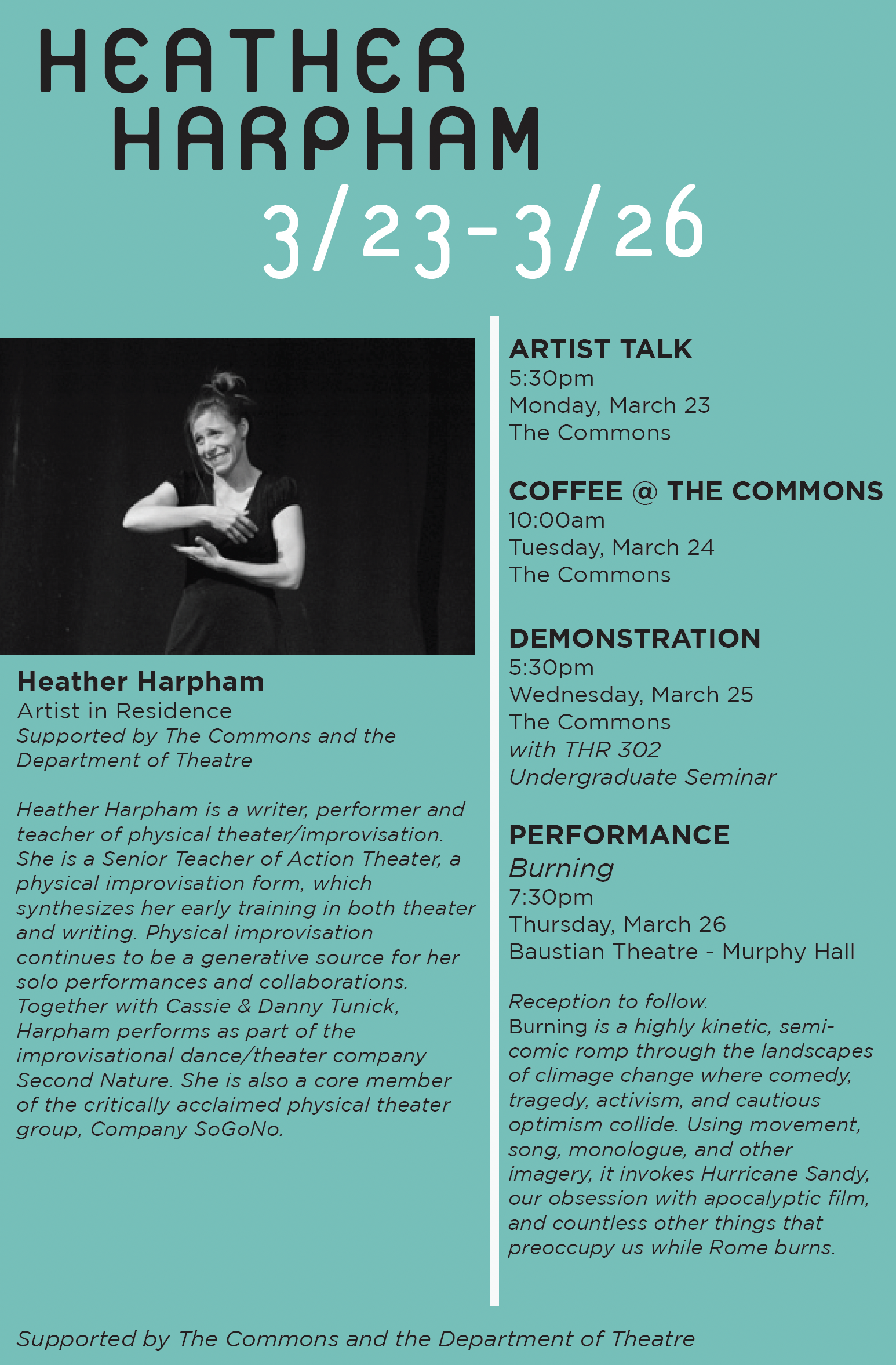 David Rokeby, Artist in Residence April 28-May 1, 2014
David Rokeby is an installation artist based in Toronto, Canada. He has been creating and exhibiting since 1982. For the first part of his career he focused on interactive pieces that directly engage the human body, or that involve artificial perception systems. In the last decade, his practice has expanded to included video, kinetic and static sculpture. His work has been performed / exhibited in shows across Canada, the United States, Europe and Asia.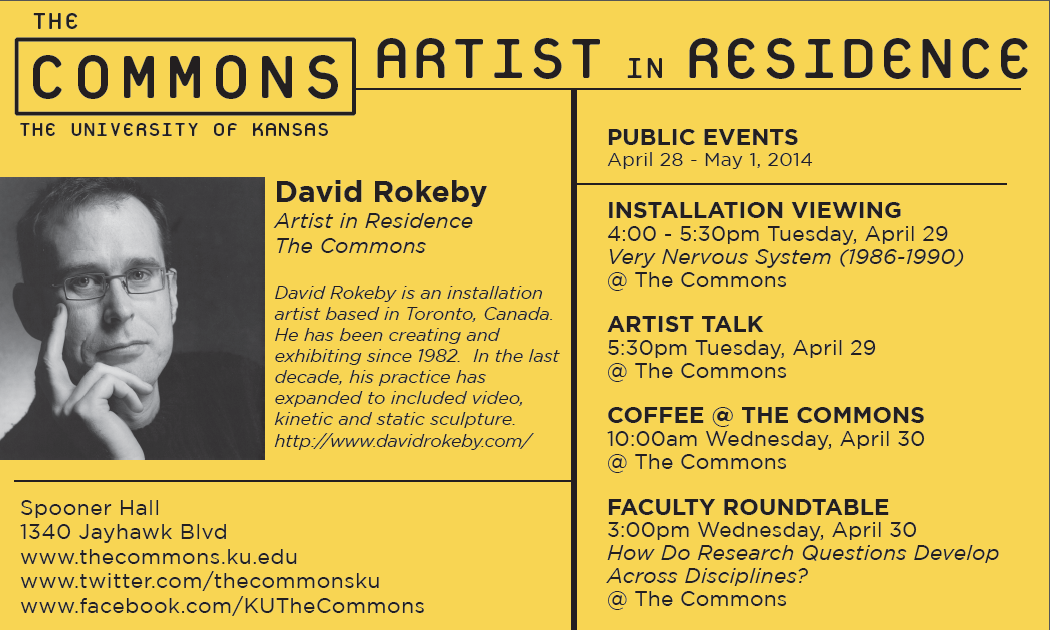 Transplaced by Porosity, Opening May 3, 2013
Transplaced by Porosity, the work of Kadim Al Asady, an investigation of structure and space as a differential of geometric synthesis. The study begins with the Structural Column at the Sagrada Familia Church in Barcelona by Antonio Gaudi as a case study and progressively expands to geometrically map the differing scales in design (body, domestic, urban, infrastructure). The four scales form a gradient spanning from density to porosity, from the architectural micro (column) to the architectural macro (solar arrays) and ultimately finding a resultant in the human inhabitation of space. The study concludes by distilling the four scales through geometric mapping, which is used to discipline the transformation of the structures to allocate for the probability of human inhabitation. Ultimately a spatial continuum is established that is in a constant state of transplacement between the most dense scale (the body) to the most porous scale (the infrastructural).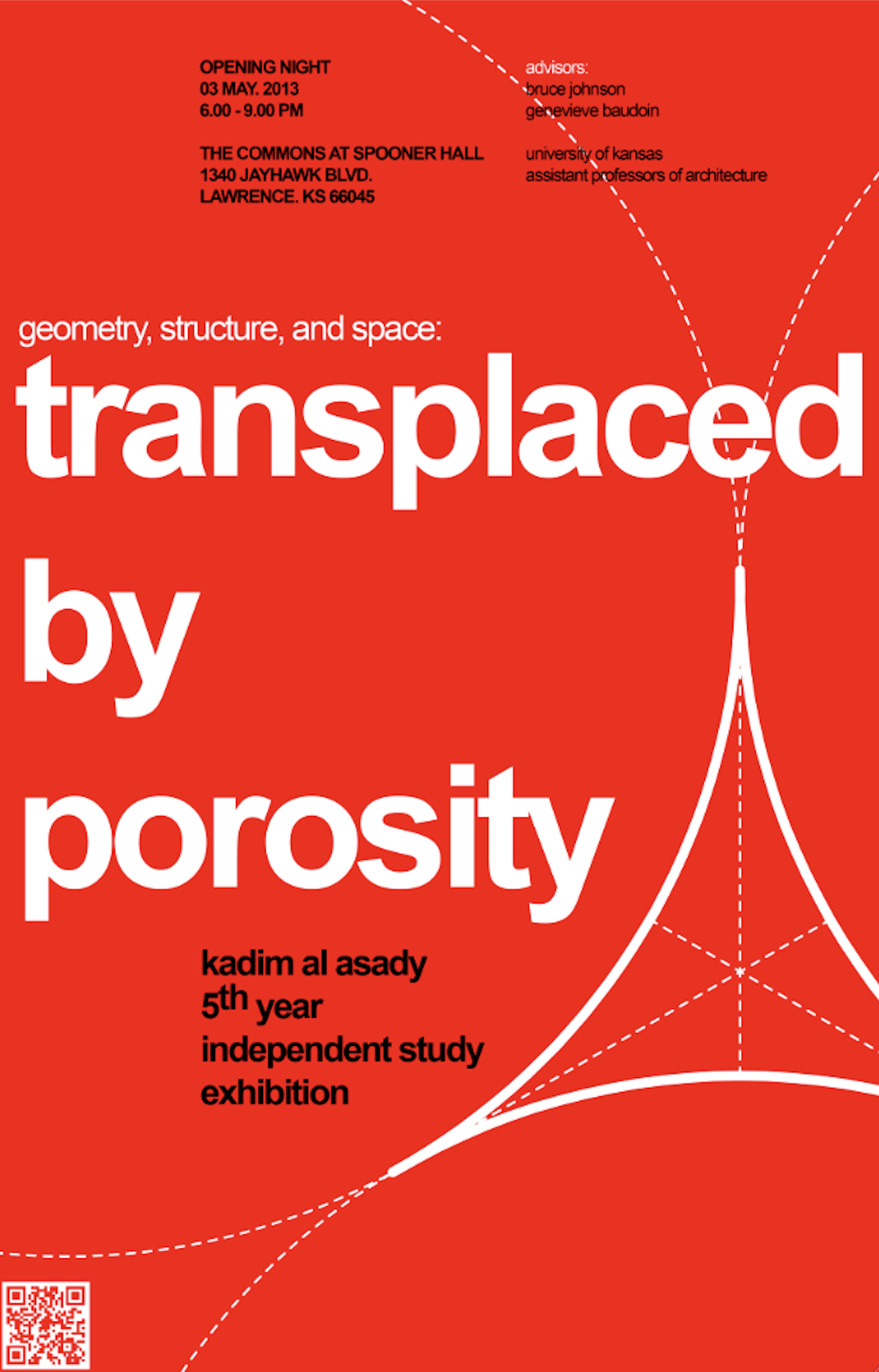 Emilio Chapela Pérez, Artist in Residence January 22-25, 2013
Emilio Chapela lives in Mexico City and works internationally. His work is concerned with the nature of media and its impact on society. It challenges our relationship with everyday tools and technology by forcing media, such as such as books, libraries, computers, Internet and social media, to reveal complex interactions inherent in society. Chapela Pérez has an academic background in mathematics and communication as well as art, which he studied at Centro de la Imagen in Mexico City. In connection with the departments of Visual Art (EXM), American Studies, Film & Media Studies, and Spanish & Portuguese.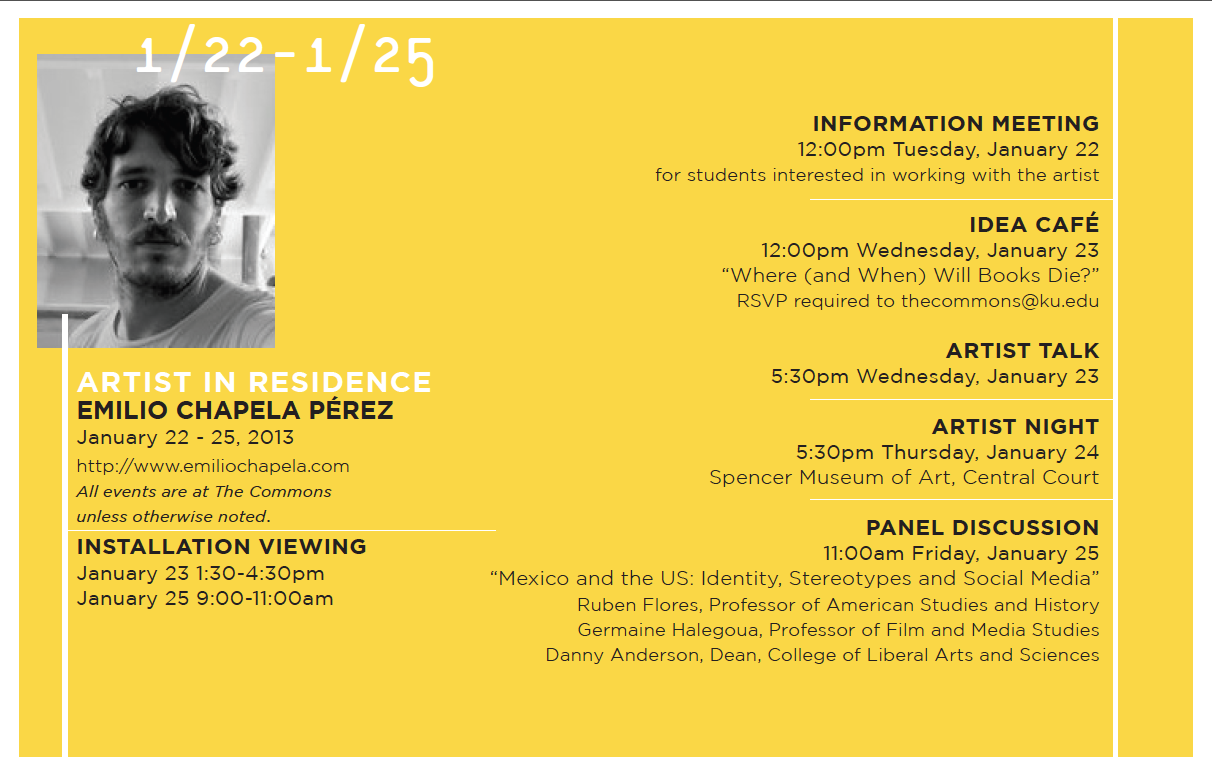 An Experimental Provocation about the Screens We Use Every Day, May 13-26, 2011
The screen has an endless presence in our lives. From television screens to computer screens to movie screens, PDAs to ATMs, mobile phones to microwave ovens...there is an endless supply of electronic devices, whcih frame us, connect us, surround us, envelop us.

For many of us, our relationship with these technological windows isn't very critical. These screens allow us to do things, see things, interact with data and information, but as we use these pixels, what do the pixels do to us?

Led by Jeremy Shellhorn, assistant professor of graphic design, and Shannon Criss, associate professor of architecture, the students of MDS 560 Motion Graphic Design created a collaborative installation for the space at The Commons, for viewers to explore their relationships with screens as interface in daily life.

The installation creates a space in which visitors can reflect upon their own interactions with screens as they are confronted by many and varied forms of projected images. Viewers may consider these questions: What have humans gained in this exchange? What have they lost? What does it mean to be present and conscious amid the pervasive messaging delivered by screens?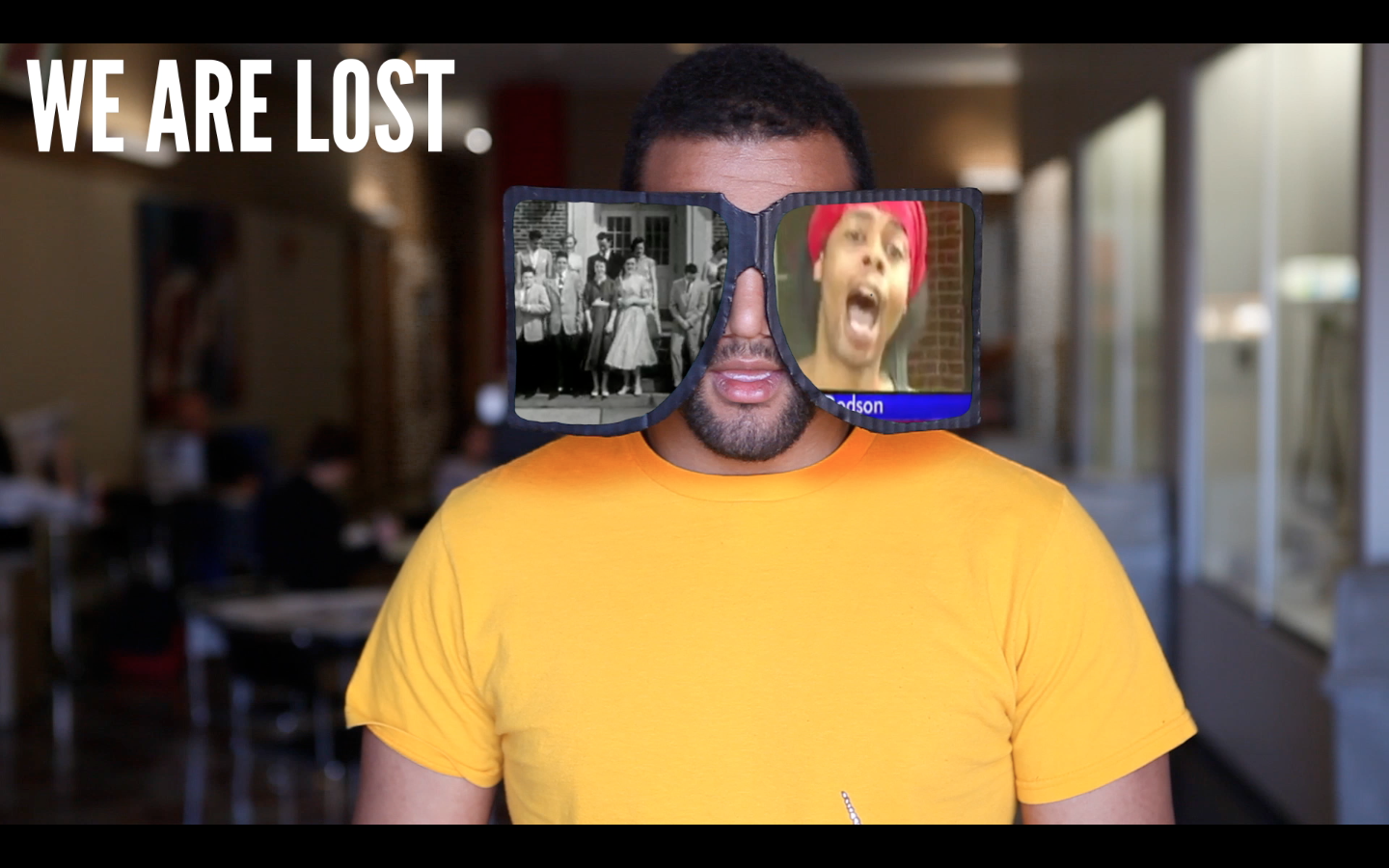 Mutatis Mutandis, April 16-30 2011
Created by Kip Haaheim, associate professor of music, Nolan Lem, electrical engineering student, and Tristan Telander, graphic designer, Spencer Museum of Art, Mutatis Mutandis explores the perception of time and its relationship to glaciological change in the form of a mixed media installation.

Visitors will experience the movement of glaciers through sound and visual imagery. The installation utilizes recorded sounds of glaciers, which have been manipulated using computer software. Data collected by CReSIS researchers has been used to create information graphics, which line the walls of the main hall at The Commons. A video display of this graphic information adds a third channel for experiencing and considering glaciological activity.

Mutatis Mutandis is a collaborative work that draws from expertise across disciplines, including the KU School of Music, the KU School of Engineering, the Center for the Remote Sensing of Ice Sheets (CReSIS), and the Spencer Museum of Art.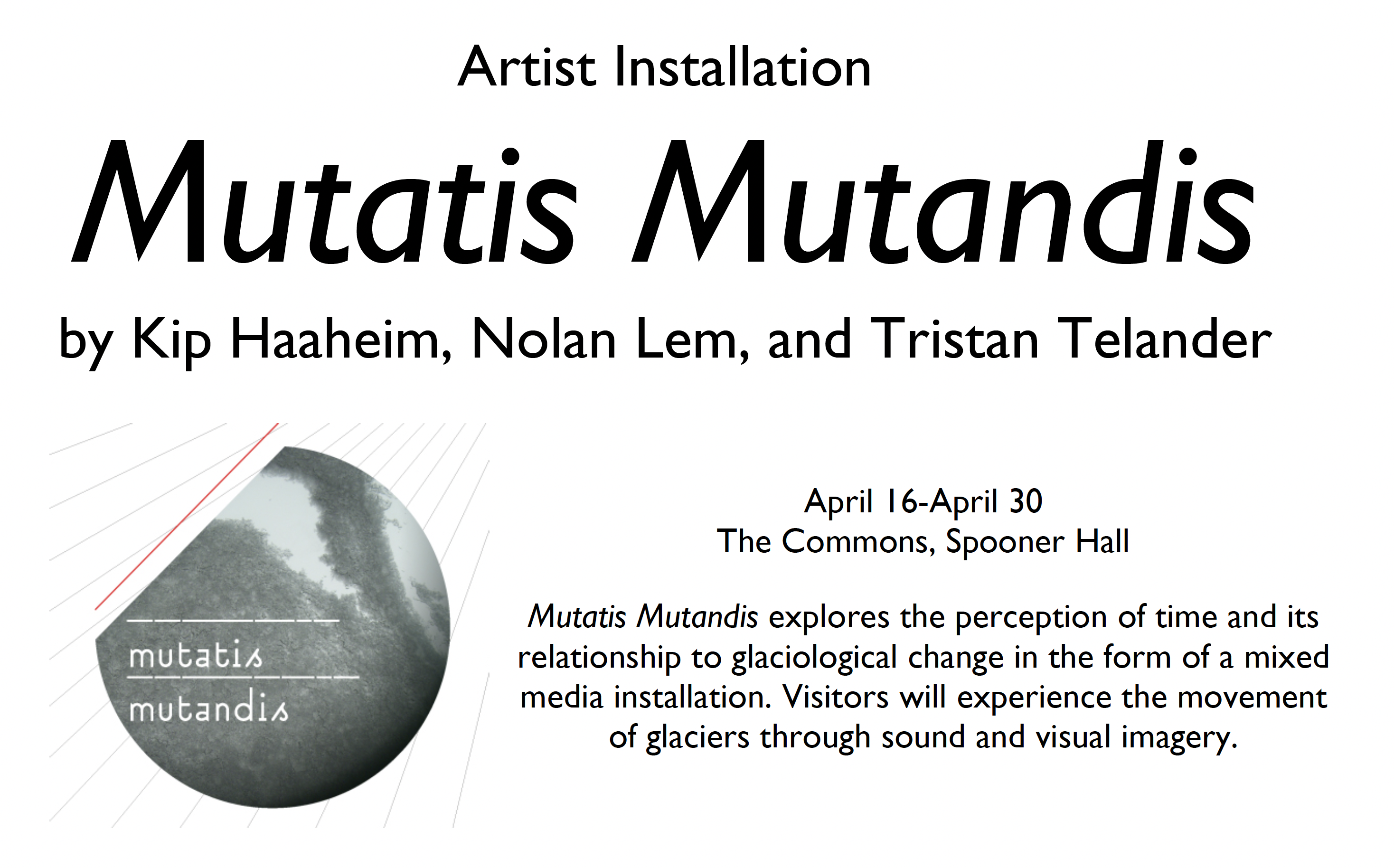 Niche, Opening February 7, 2008
Niche is a mixed media art installation by Marguerite Perret, Bruce Scherting and Betsy Knabe Roe. The word "niche" is from the old French for nest. In contemporary usage, it can refer to the place an organism occupies in an ecosystem, or the place a product holds in what marketing professionals sometimes call the consumer ecosystem. The exhibition Niche encompasses both associations. The work on display is a hybrid of consumer culture and the natural world.