Humans in a More than Human World
Through these events and initiatives, The Commons presents creative, scholarly, exploratory, and investigative ideas that highlight reciprocal ways of knowing. Through a nontraditional worldview, this series aims to combine forms of knowledge (traditional, scientific, technical, creative, visual, narrative, etc.) In this series, The Commons and collaborative partners will explore known and possible ways to understand the role humans play as individuals and as a species, challenge us to consider new and more perspectives, and listen for voices we are less attuned to hearing.
News Release: Robin Wall Kimmerer to give 2021 Spencer Lecture for The Commons
News Release: Alumna creates Commons art installation using dirt, shoe soles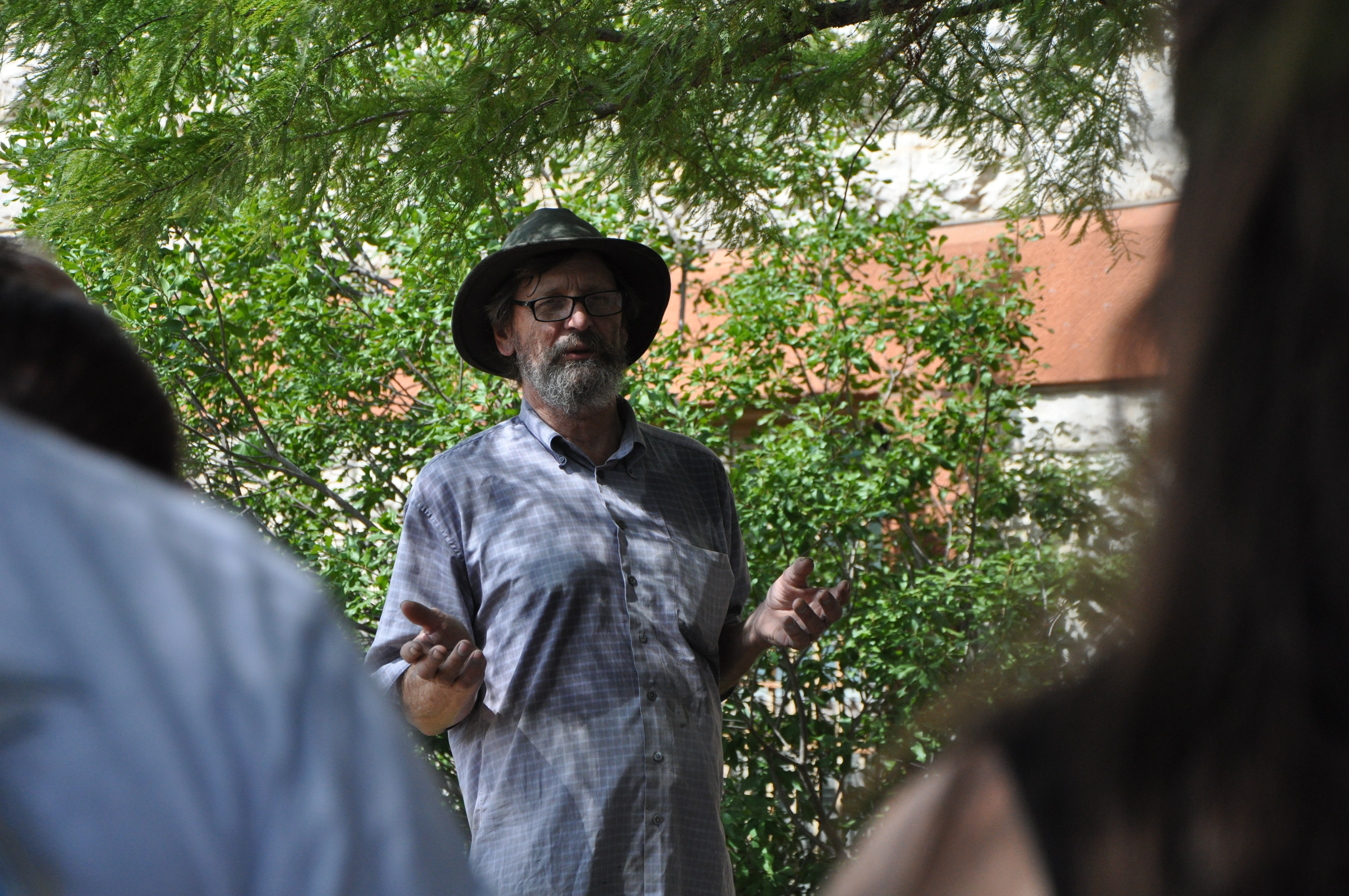 Within this theme, we explore:
What can we learn from nonhuman teachers?
How do humans communicate urgency, and what role does fear play?
How do humans listen to other species in a critical moment?
Are there synchronicities shared across species, related to survival and adaptation?
What is the role of social justice in climate justice?
How might humans consider the teachings of previously extinguished ecosystems?
What does decreasing biodiversity mean for humans and for other species?
What can nonhuman species teach us about community?

Gifts of the Land: A Walk with Dr. Robin Wall Kimmerer
Gifts of the Land
Dr. Robin Wall Kimmerer takes us on a walk at Clark Reservation State Park in Jamesville, NY as Spring welcomes back migrating creatures and sends a message to wake up those who have taken a Winter rest. This video was commissioned by The Commons at the University of Kansas, in conjunction with Dr. Kimmerer's April 1, 2021 lecture, and was funded by the Kenneth Spencer Lecture Fund. // Shot and edited by: https://loganrando.post.pro/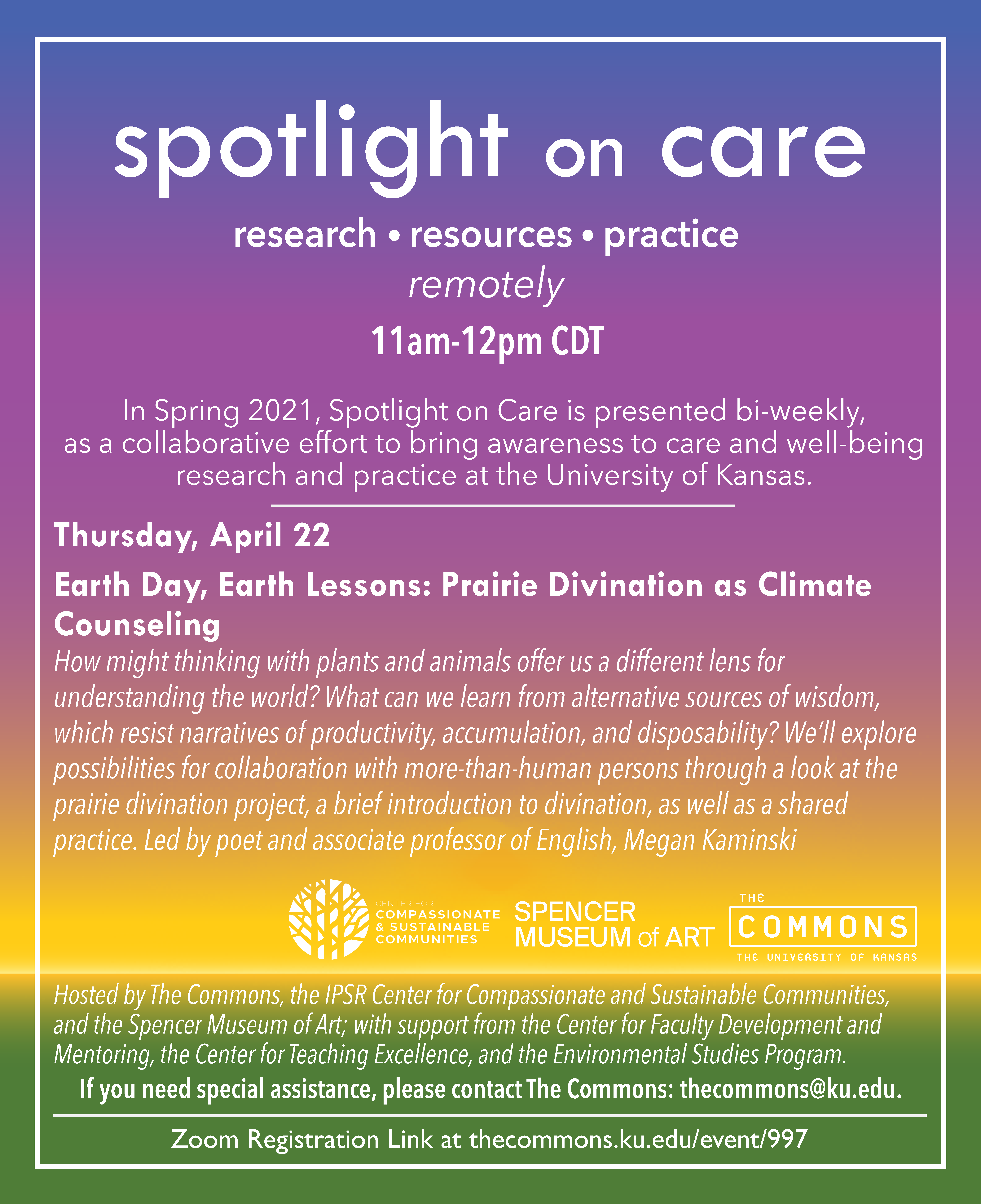 Spotlight on Care
How might thinking with plants and animals allow us a different lens through which to see our present world and histories—and help to imagine futures? What do we learn when we seek alternative sources of wisdom, ones that resist narratives of productivity, accumulation, and disposability? How can we practice listening to our intuition, to our own heart?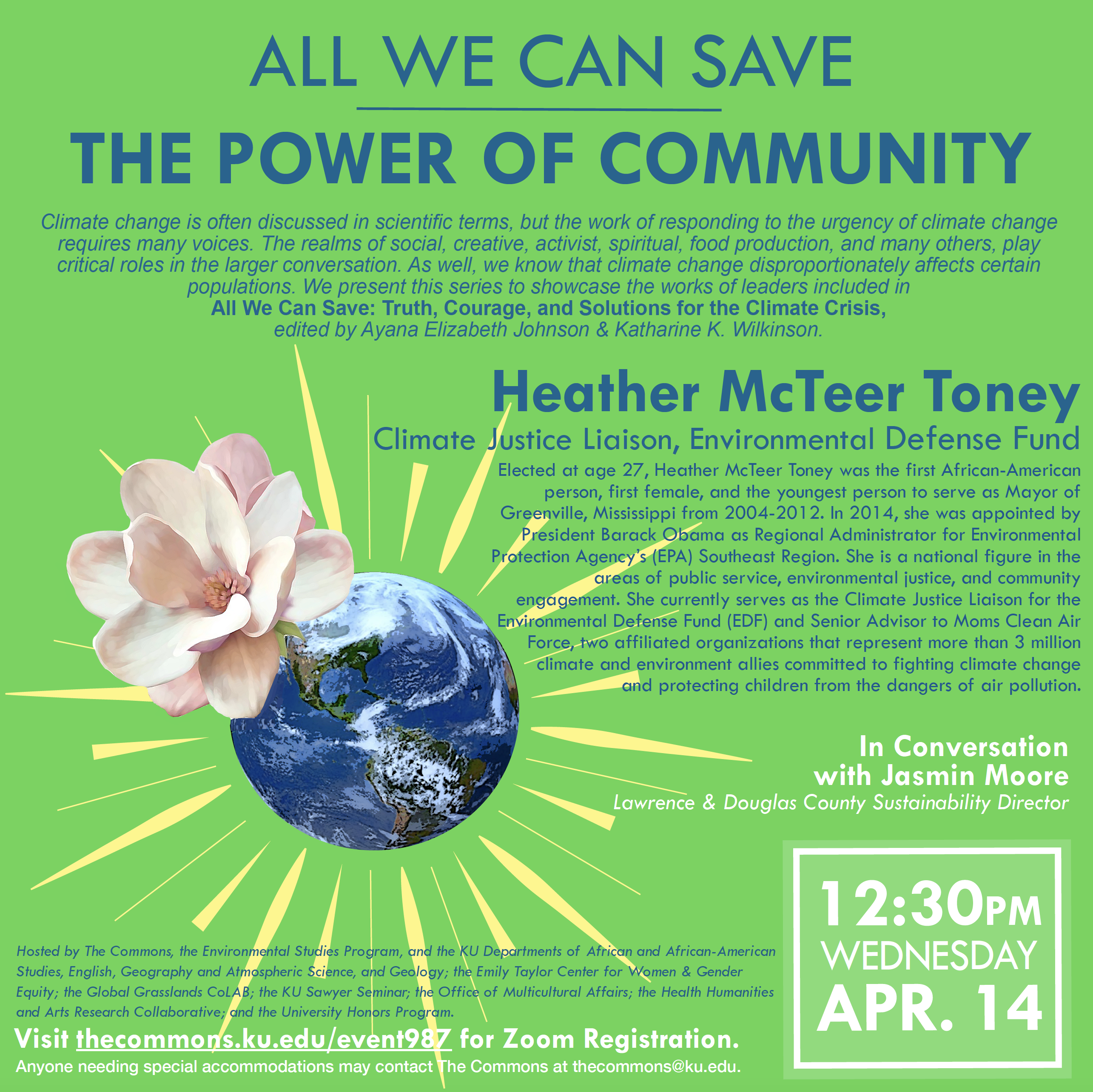 All We Can Save - The Power of Community
Elected at age 27, Heather McTeer Toney was the first African-American person, first female, and the youngest person to serve as Mayor of Greenville, Mississippi from 2004-2012. In 2014, she was appointed by President Barack Obama as Regional Administrator for Environmental Protection Agency's (EPA) Southeast Region. She is a national figure in the areas of public service, environmental justice, and community engagement. She currently serves as the Climate Justice Liaison for the Environmental Defense Fund (EDF) and Senior Advisor to Moms Clean Air Force.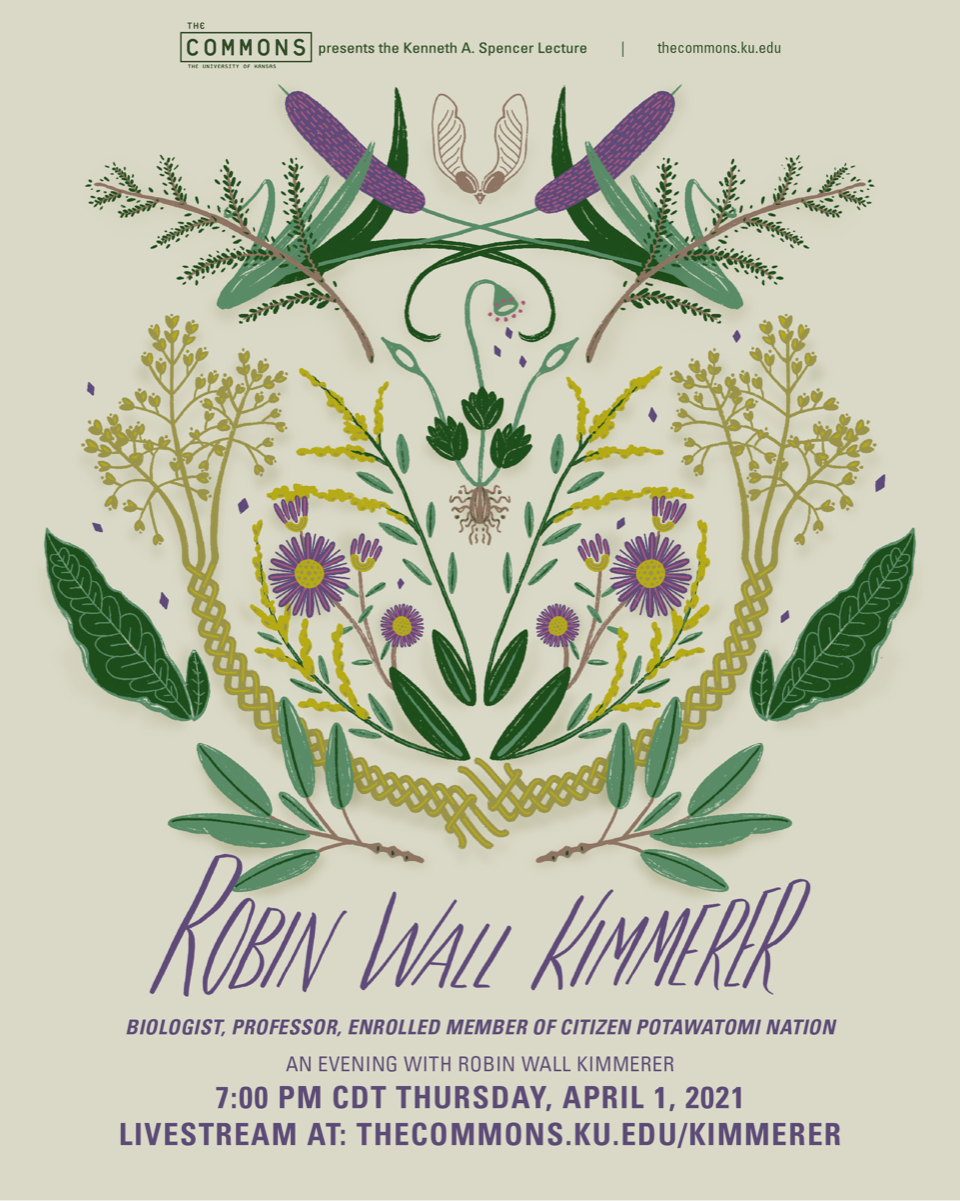 Robin Wall Kimmerer
Writer, professor, scientist, and member of the Citizen Potawatomi Nation, Dr. Robin Wall Kimmerer is well known for her 2015 book, "Braiding Sweetgrass: Indigenous Wisdom, Scientific Knowledge and the Teaching of Plants." She is an SUNY Distinguished Teaching Professor of Environmental Biology and the founder and director of the Center for Native Peoples and the Environment, whose mission is to create programs that draw on the wisdom of indigenous and scientific knowledge to offer lessons for humanity.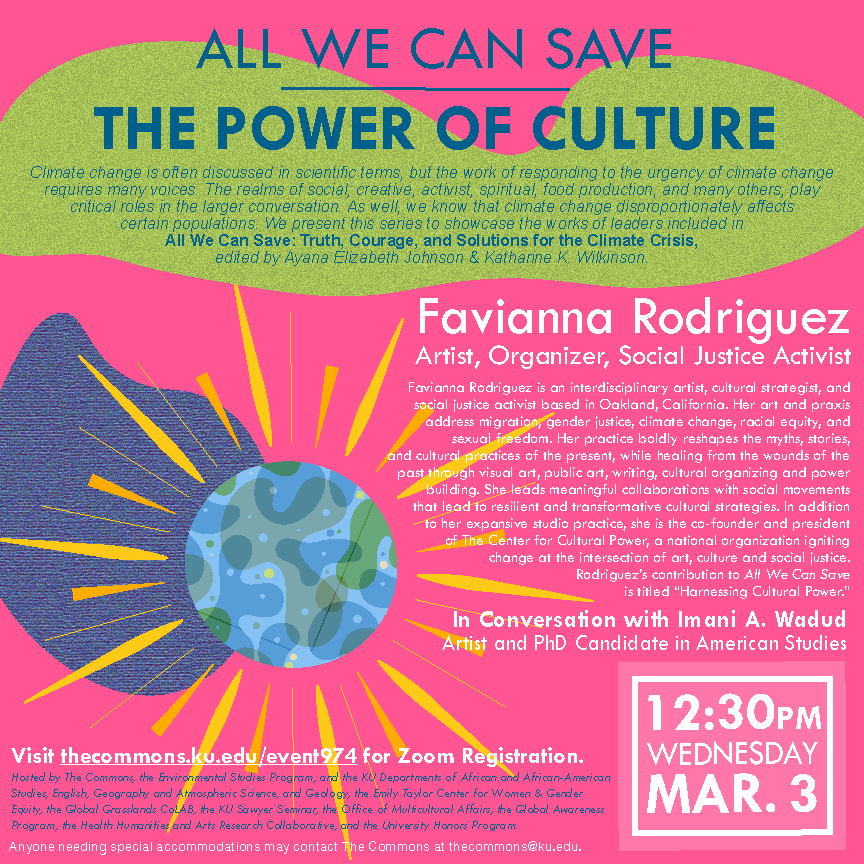 All We Can Save - The Power of Culture
Favianna Rodriguez is an interdisciplinary artist, cultural strategist, and social justice activist based in Oakland, California. Her art and praxis address migration, gender justice, climate change, racial equity, and sexual freedom. Her practice boldly reshapes the myths, stories, and cultural practices of the present, while healing from the wounds of the past through visual art, public art, writing, cultural organizing and power building.