Global Climate Teach-In 2023
---

Climate Justice Across Domains
This interdisciplinary event connects the University of Kansas and the larger regional community, by bringing together a wide-ranging and diverse group of speakers, whose work, knowledge, and interests offer important ways to consider the climate crisis.
Attend the Event:
To attend in person, plan to arrive at Maceli's Banquet Hall in downtown Lawrence by 5pm Central Time, Wednesday, March 29, 2023. 1031 New Hampshire St, Lawrence, KS 66044
To attend online, register for the Zoom webinar, where the event will be live-streamed.
Goals for the Event:
Showcase area research, ideas, and initiatives that address climate change from a range of perspectives;
Connect community leaders, researchers, public officials, and actions around climate change response; and
Offer individuals opportunities to learn how they can, from their own positions, apply their interests and work toward lessening the impacts of climate change.
Why a Climate Teach-In?
The World Wide Teach-In is an event focused on creating Climate and Justice dialogues at K-12 Schools, Colleges, Universities, and greater communities across the globe. A Teach-In model invites researchers, community leaders, students, and faith groups to speak for 5 minutes, and then participate in solutions-oriented discussions with attendees that will drive interdisciplinary perspectives and cultivate actionable solutions for your college and community.
How is it "Global?"
Through this effort, led by Bard College, more than 350 organizations across more than 50 countries will host Teach-In events on March 29.
Does it cost anything to attend?
The event is free and open to the public, but we ask that you register in advance. Attend in person or online. Food will be provided at Maceli's Banquet Hall.
Josh Bolick, Head, Shulenburger Office of Scholarly Communication & Copyright, KU Libraries
Ward Lyles, Associate Professor of Planning, School of Public Affairs and Administration, University of Kansas
Emily Ryan, Director, The Commons, University of Kansas
A. Town Peterson, Distinguished Professor, Ecology and Evolutionary Biology & Senior Curator, KU Biodiversity Institute and Natural History Museum
Shannon O'Lear, Director of Environmental Studies Program and Professor of Geography & Atmospheric Science, University of Kansas
Beto Lugo, Executive Director, CleanAirNow
Atenas Mena, CleanAirNow
Kelly Overstreet, PhD Candidate, Planning, School of Public Affairs and Administration
Ali Brox, Assistant Teaching Professor, Environmental Studies Program
Joel Campbell, Sunrise Movement / KU Student
Dawn Buehler, Kansas Riverkeeper, Friends of the Kaw
Quintin Castro (he/him)
Reagan Ebert (she/her)
Seth Klayson (he/him)
Korbyn LeBlanc (she/her)
Alex Young (he/him)
Laura Kirk, Associate Teaching Professor, Theatre and Dance
 
Jamie Hofling, Sustainability Analyst, Douglas County Office of Sustainability
Grant Misse, Climate 2040 / KU Student
Wayne Briggs, Just Food
Shannon Criss & Nils Gore, Professors, KU Architecture
Joonmo Kang, Assistant Professor, KU Social Welfare
2023 Sponsor & Partner Organizations
2023 Climate Teach-in
Global Climate Teach-in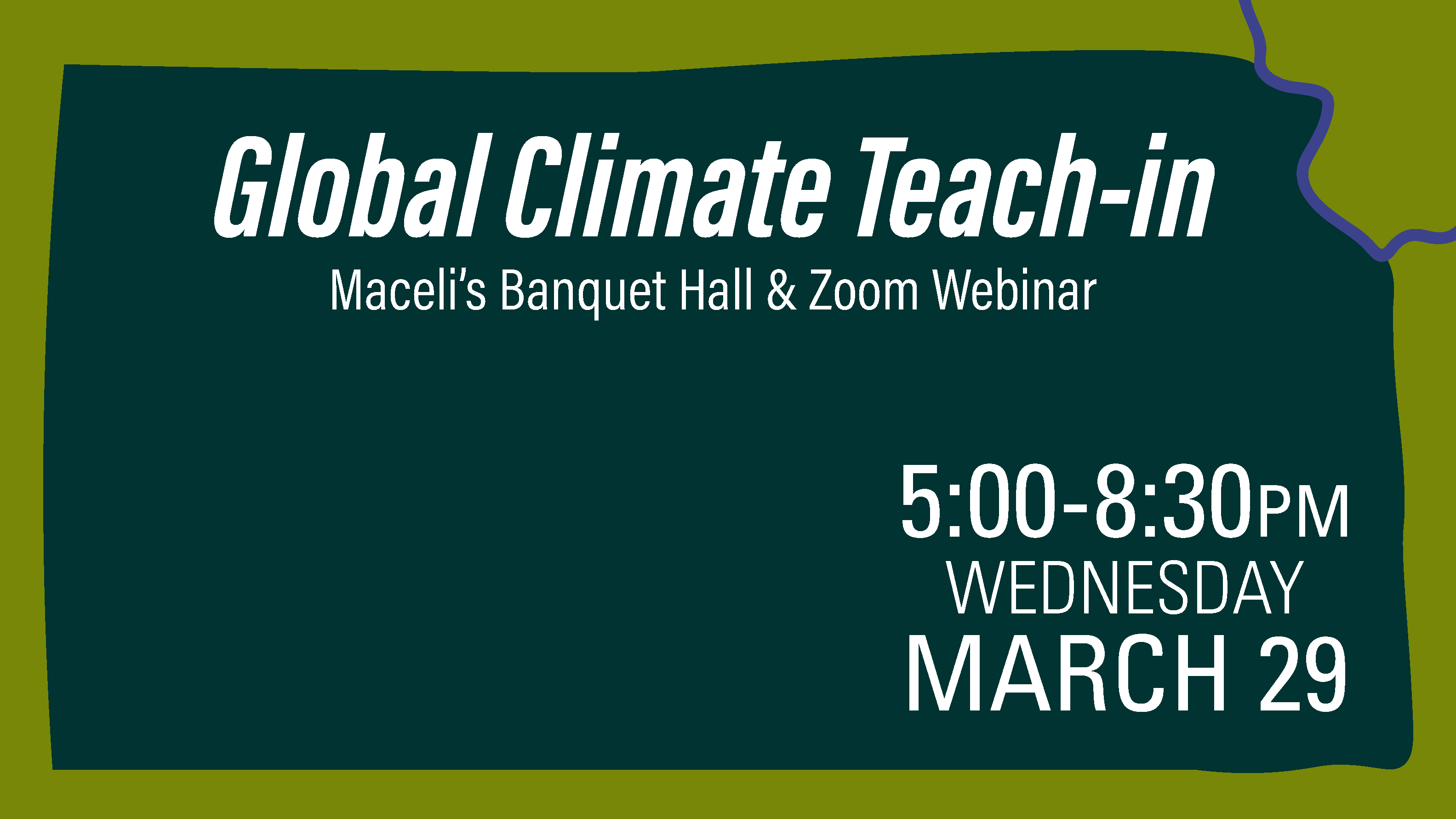 2022 Climate Teach-in
Climate Justice Across Domains, Local to Global