Coffee @ The Commons
Coffee @ The Commons provides a venue for more in-depth conversation between interested members of the community with a visiting expert. In collaboration with departments across the University, The Commons engages speakers whose work resonates across disciplines, to speak about their research in a discussion-style setting.
April 14, 2022 - Terry Tempest Williams
Terry Tempest Williams is a naturalist and persistent advocate for the freedom of speech. The enduring
questions in her work center human relationships with land and connect these ties to matters of justice.

She has shared her work across multiple platforms, including books, articles, podcasts, and televised series.
Presented with the Hall Center for the Humanities.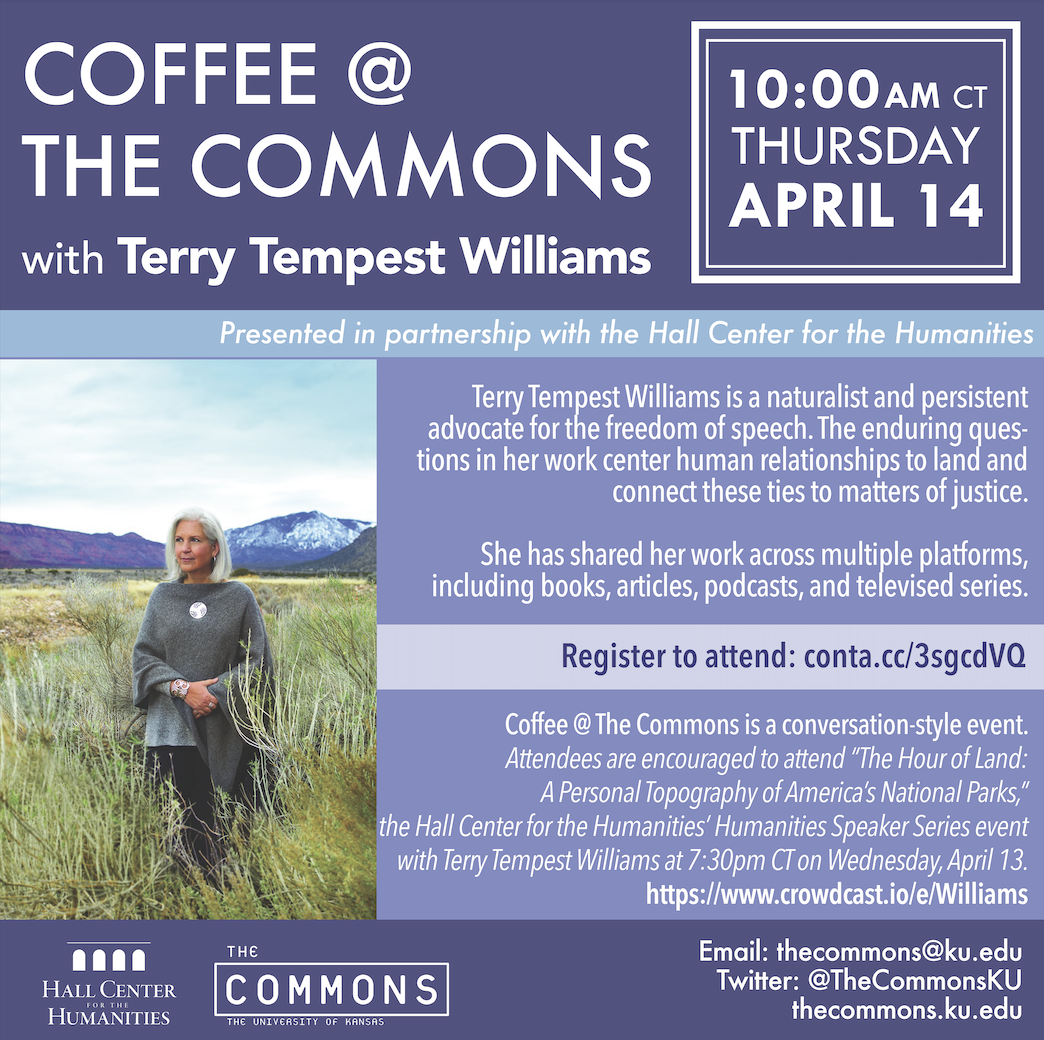 November 12, 2021 - Rodrigo Valenzuela, Photographer
In partnership with the Photography Program, the Department of Design, the School of Architecture and Design, the Spencer Museum of Art, and the Center for Latin American and Caribbean Studies.

Rodrigo Valenzuela is a multimedia artist and professor at the UCLA School of the Arts and Architecture. Valenzuela is an artist working in photography, video, painting, and installation. Using autobiographical threads to inform larger universal fields of experience, his work constructs narratives, scenes, and stories that point to the tensions found between the individual and communities. Much of his work deals with the experience of undocumented immigrants and laborers.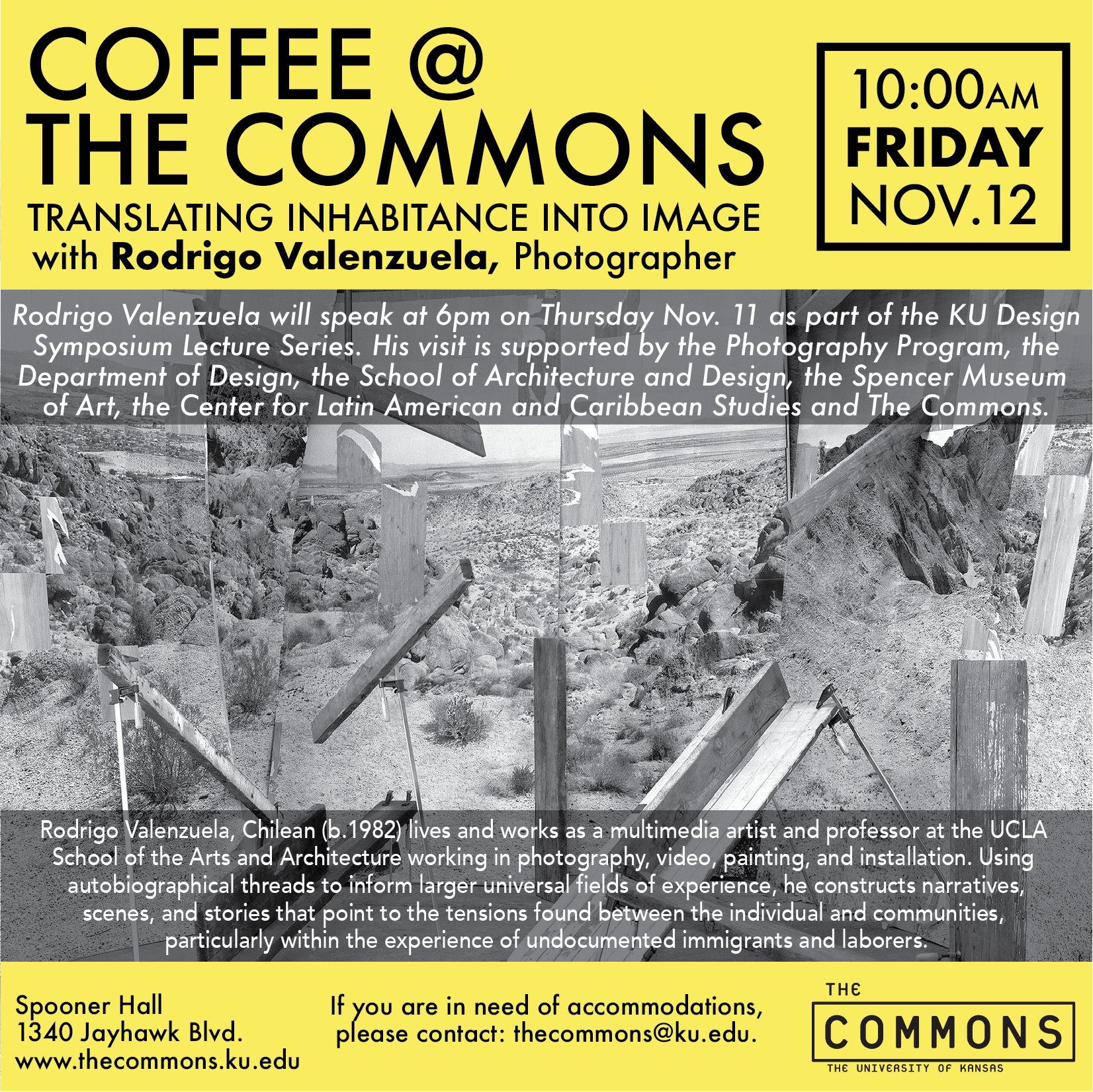 October 1, 2021 - Irin Carmon, Journalist
#MeToo Media Coverage
Presented in partnership with the Hall Center for the Humanities.
Moderated by Patricia Weems Gaston, KU School of Journalism & Mass Communications.

What is the role of journalists in reporting stories shared through #MeToo?
What happens in cases when sources do not agree on events?
What extra considerations must journalists make when interviewing vulnerable populations?

Irin Carmon is a senior correspondent at New York Magazine. In 2017-18, Carmon worked with the Washington Post and reporter Amy Brittain to break the news of sexual harassment and assault allegations against Charlie Rose, as well as CBS's knowledge of his conduct. She speaks frequently on women's leadership and rights.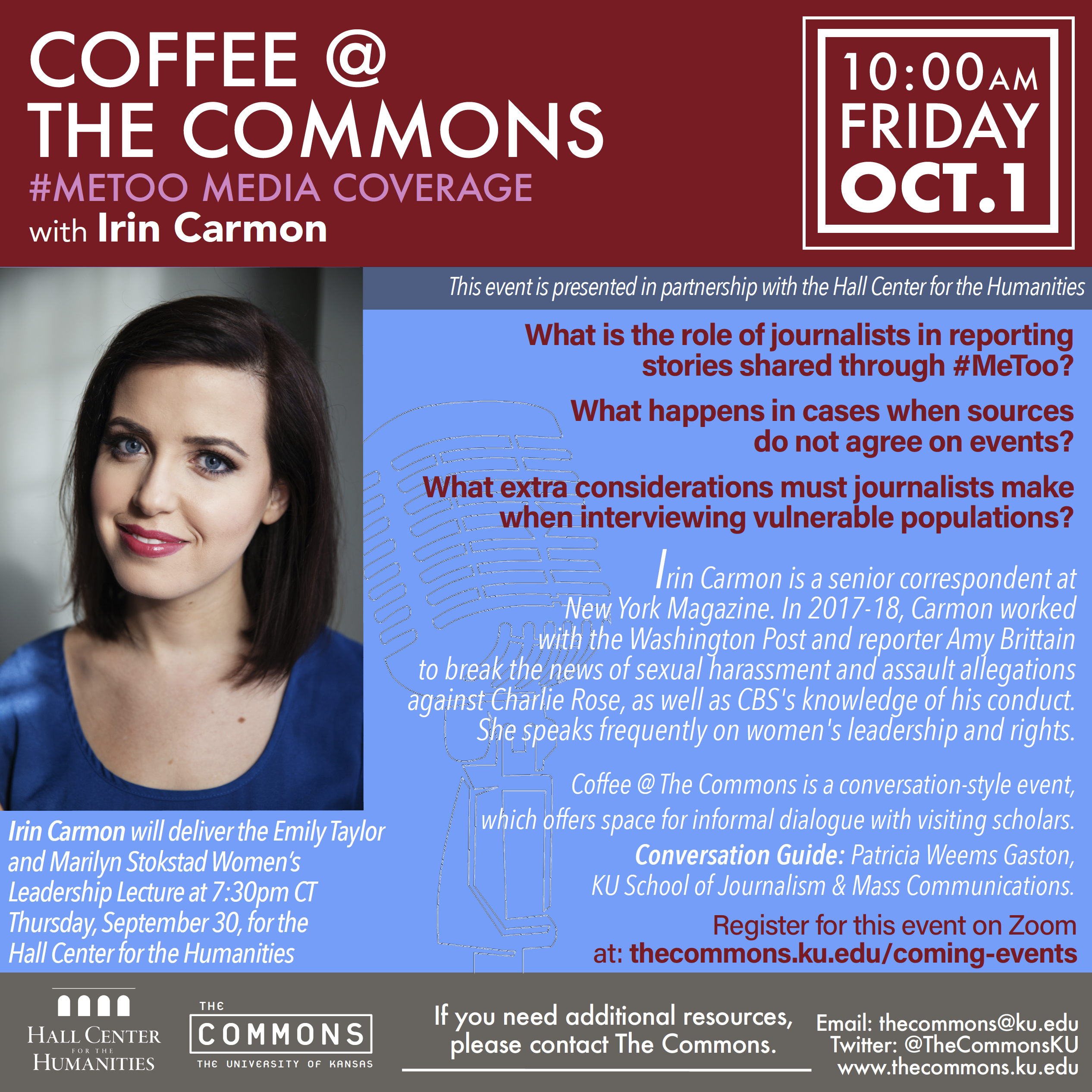 September 24, 2021 - Amitav Ghosh, Author
Global Environmental Justice, Seeing the Sovereignty of the Earth
Presented in partnership with the Hall Center for the Humanities.

How do the threats of climate change affect populations differently?
How do western value systems reinforce the trajectory of a warming planet?
Who possesses the knowledge needed to restore human relationships with the Earth?

Amitav Ghosh is a renowned author of fiction and nonfiction, including The Ibis Trilogy--Sea of Poppies, River of Smoke, and Flood of Fire; The Great Derangement: Climate Change and the Unthinkable; Gun Island; and most recently, The Nutmeg's Curse: Parables for a Planet in Crisis.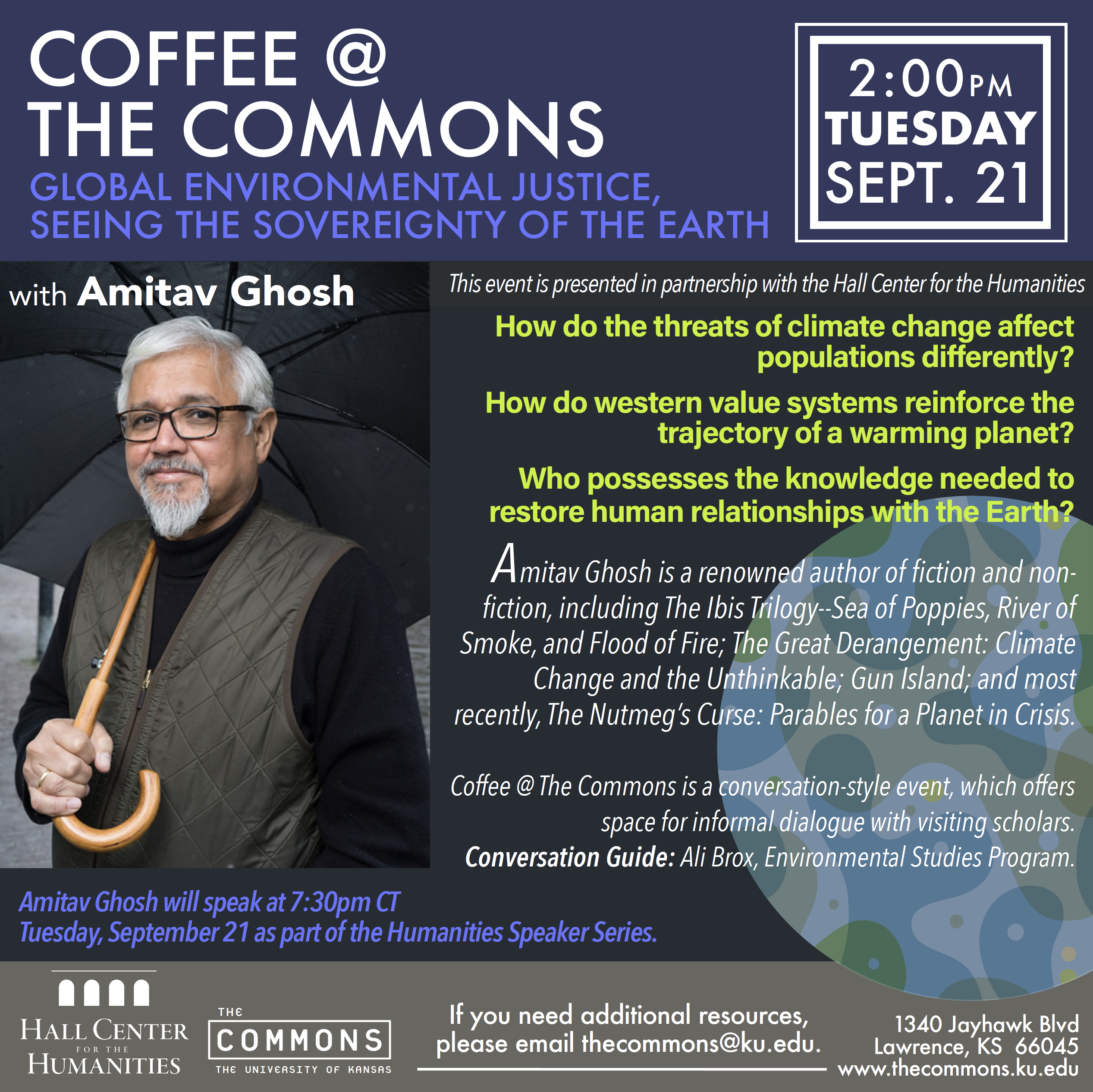 March 27, 2020 - Lissa Rivera, Photographer
In partnership with the Hallmark Lecture series, Lissa Rivera will host a Coffee @ The Commons conversation on The Evolution of Identity: Adaptation and Image in the Age of Photography.

Lissa Rivera is a photographer and curator based in Brooklyn, NY. Rivera received her MFA from the School of Visual Arts, where she became fascinated with the social history of photography and the evolution of identity, sexuality and gender in relationship to material culture. 'Beautiful Boy,' Rivera's latest project, takes her interest in photography's connection with identity to a personal level, focusing on her domestic partner as muse.

As a curator, Rivera strives to include traditionally underrepresented voices regardless of formal education or exhibition history.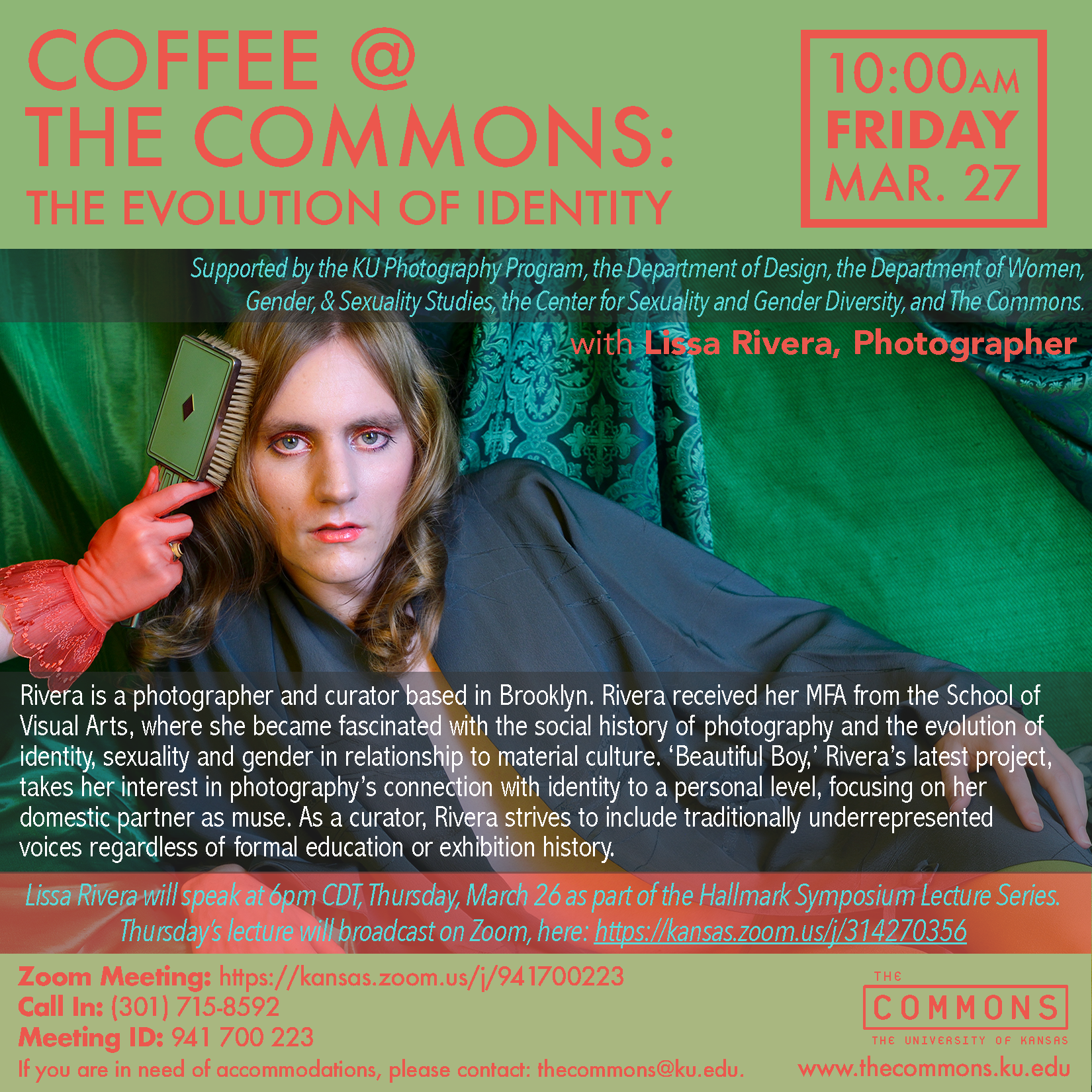 March 5, 2020 - Charly Evon Simpson, Playwright
This conversation centers Black maternal mortality at the intersection of race, gender, and health. As a playwright and instructor, Simpson's recent work examines these connections through the concept of "Weathering," an approach to address personal fears as well as larger contemporary issues that black women face.

Moderated by Alex Kimball Williams.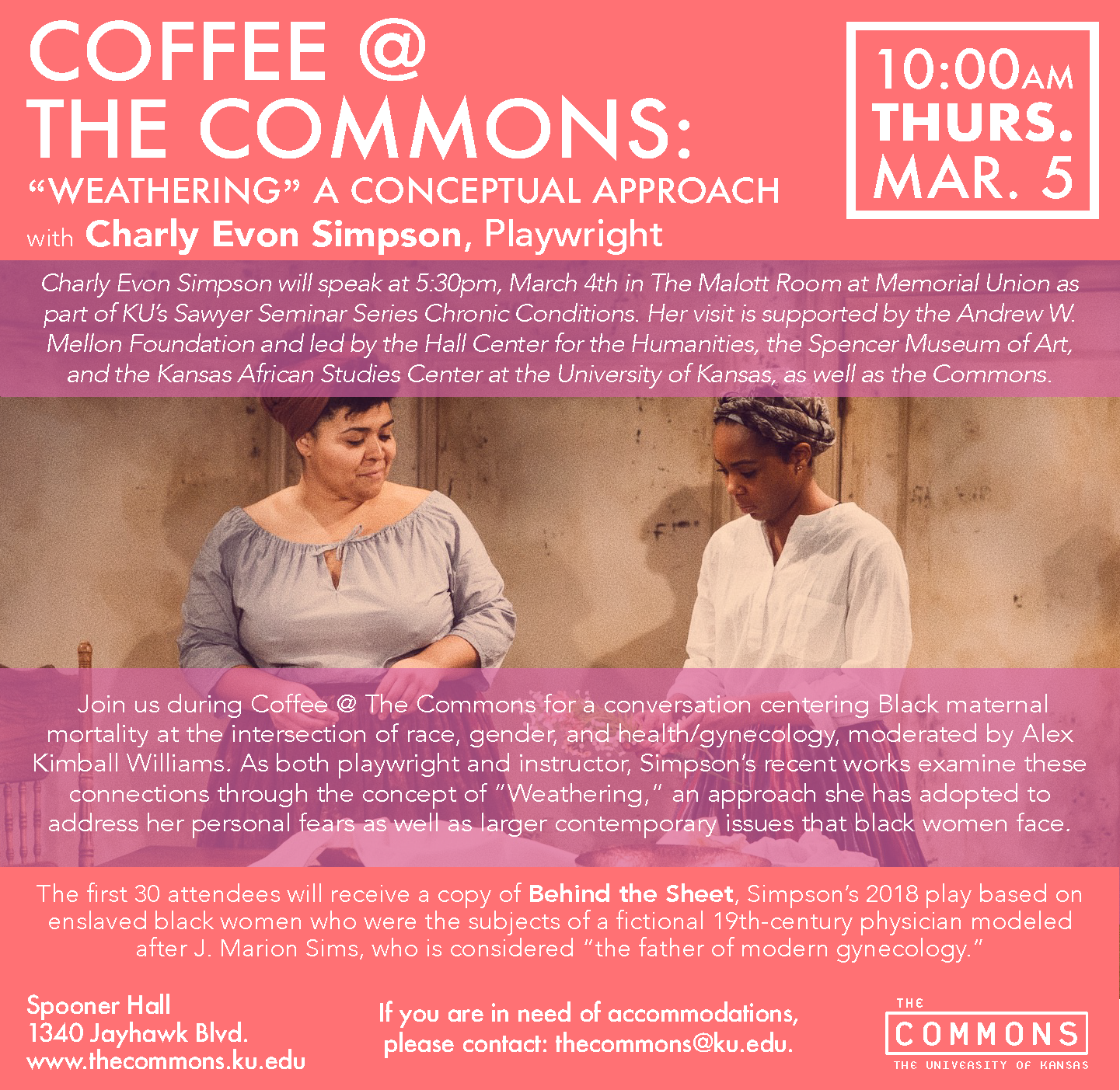 February 20, 2020 - Alejandro Cartagena, Photographer
Alejandro Cartagena, Mexican (b. 1977, Santo Domingo, Dominican Republic) is a photographer who lives and works in Monterrey, Mexico. His projects employ landscape and portraiture as a means to examine social, urban and environmental issues.

At Coffee @ The Commons, Cartagena will focus on the topic of "The Dream of Homeownership: A Copy Paste Cultural Phenomenon that Mexico Adapted from the US." Later that evening, he will speak as part of the Hallmark Lecture Series at 6:00pm in Budig Hall 110.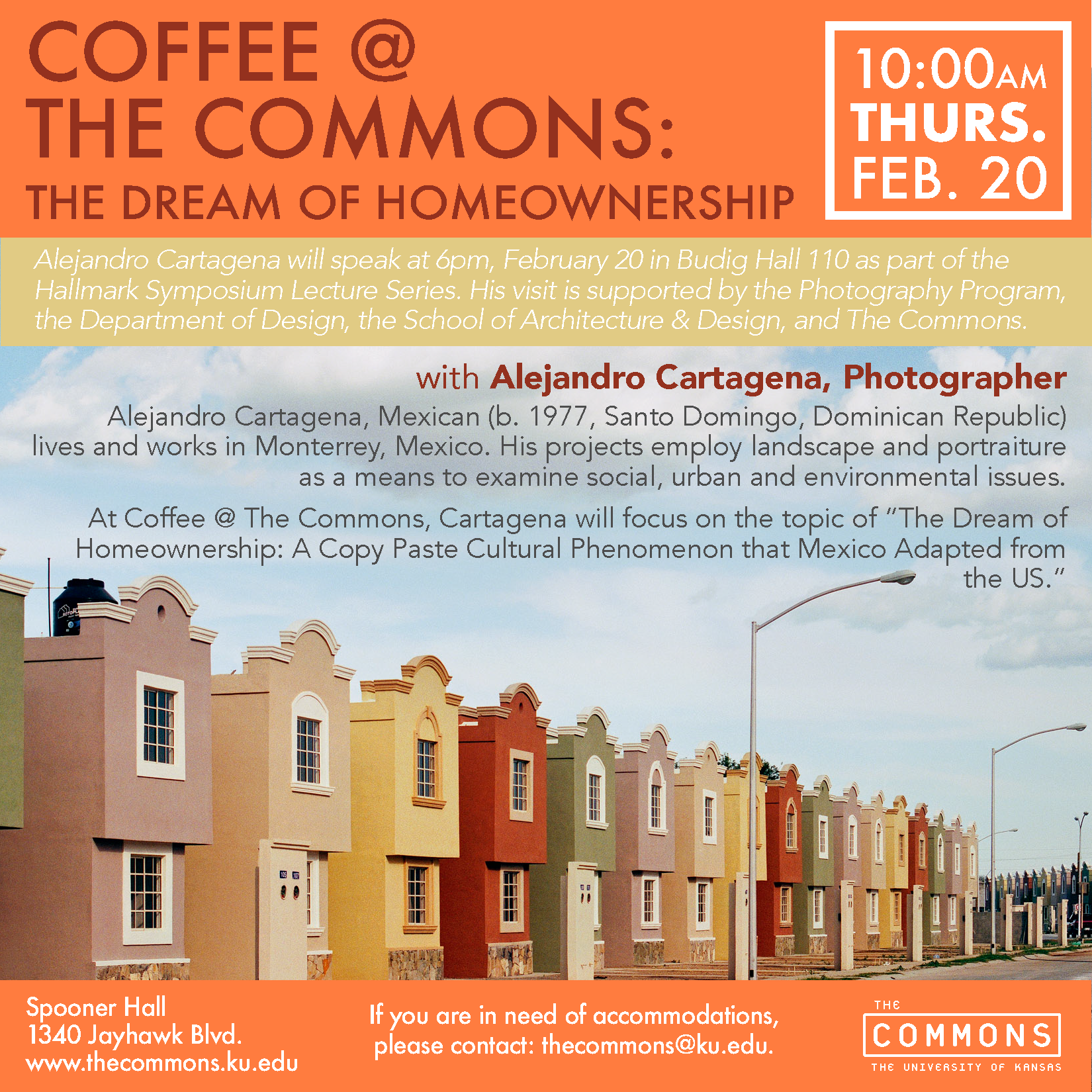 February 6, 2020 - Dr. Megan Horst, Professor of Urban Studies and Planning
Dr. Megan Horst is a professor of Urban Studies and Planning at Portland State University. Her research centers the intersection of food systems and planning, with particular focus on public policy and planning and food justice. She works with sustainable food systems, farmland conservation, and access to resource lands.

Coffee @ The Commons is presented as an opportunity for audiences to haveconversations with visiting scholars. Attendees should plan to participate in discussion.

This event is presented in conjunction with Dr. Horst's public lecture, hosted by the Urban Planning Program in the School of Public Affairs and Administration.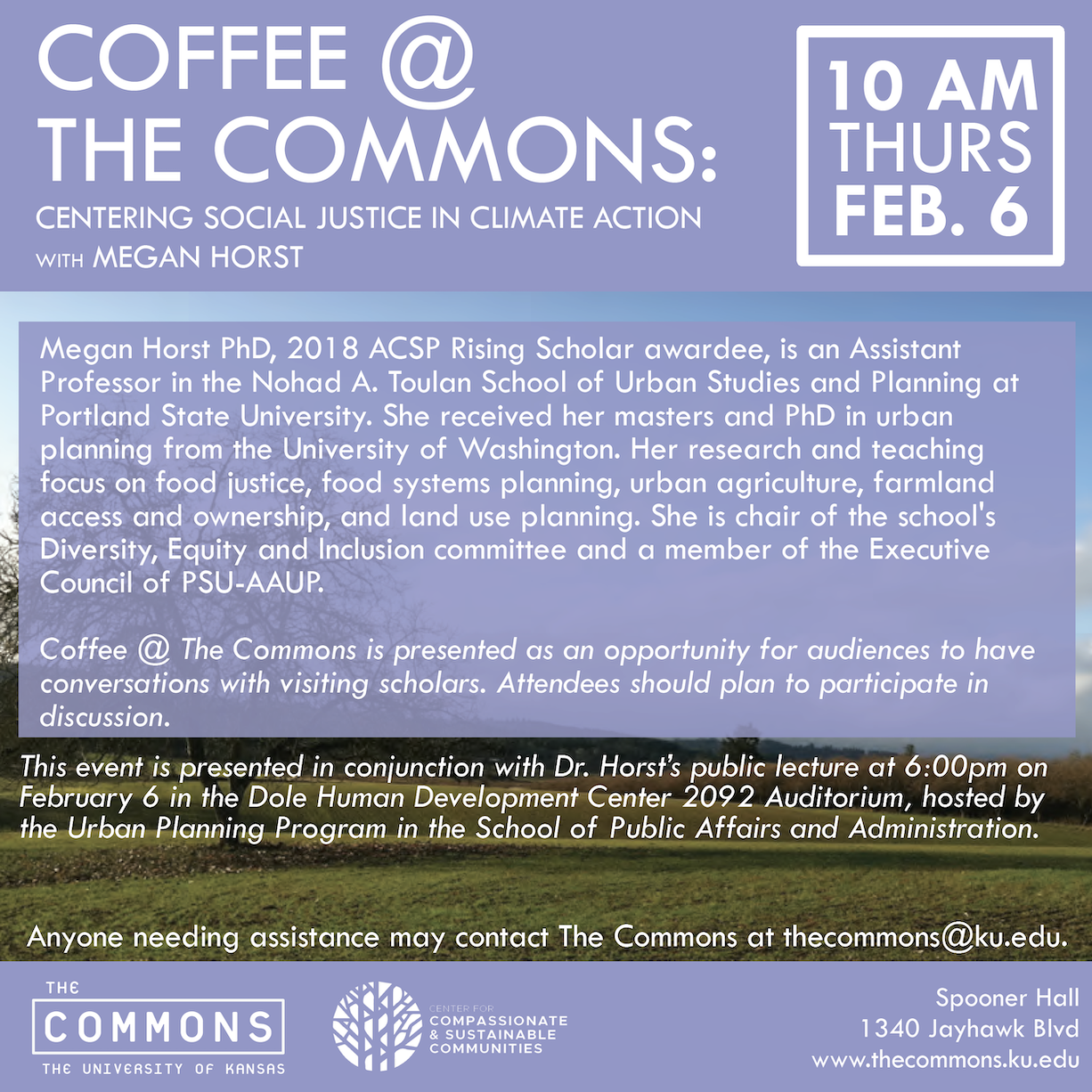 April 9, 2019 - Kelly Bronson, Research Chair in Science & Society
Kelly Bronson, Research Chair in Science & Society, University of Ottawa, uses innovative methods to bring stakeholder voices into the design and governance of emergent and controversial technologies.

This discussion will focus on the relationship between data and public trust in agriculture and food systems.

Bronson has argued that the politics of big data in agriculture have implications for the future of food production and farmer decision-making in North America and the globe.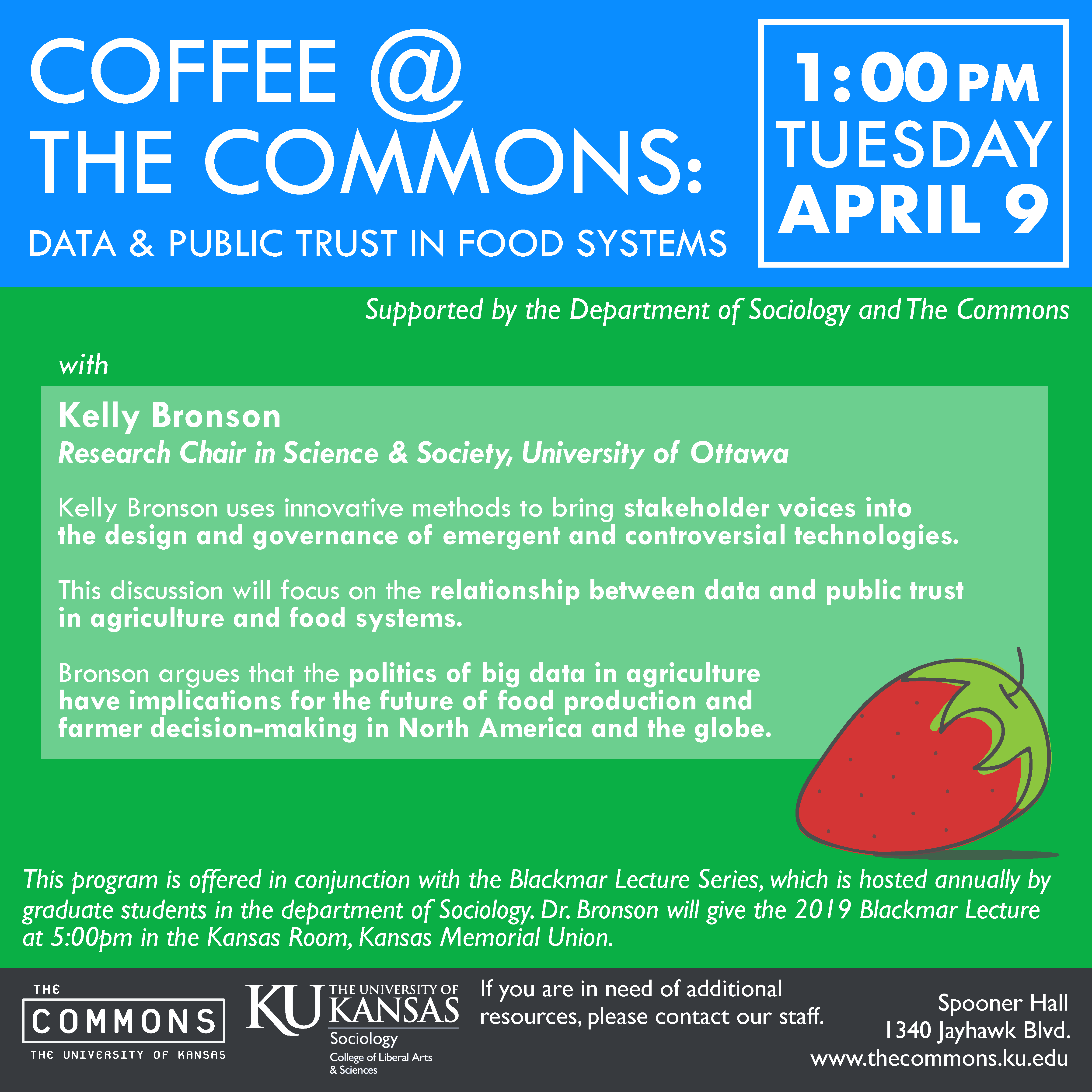 February 22, 2019 - Steven Smith, Photographer
Steven B. Smith is a photographer whose work chronicles the transition of the Western landscape into suburbia. For this work, he was awarded the First Book Prize for Photography by the Honickman Foundation and the Center for Documentary Studies at Duke University. His book, The Weather and a Place to Live: Photographs of the Suburban West, was published by Duke University Press in 2005. He has received numerous grants and awards, including the Guggenheim, Kittredge and RISCA fellowships. Steven's work has been widely exhibited and can be found in many public collections, such as the Museum of Modern Art and the Metropolitan Museum of Art. Smith received a BFA from Utah State University and an MFA from Yale. He is a professor of photography at the Rhode Island School of Design. In 2015, his second monograph, Waiting out the Latter Days, was published by TIS Press.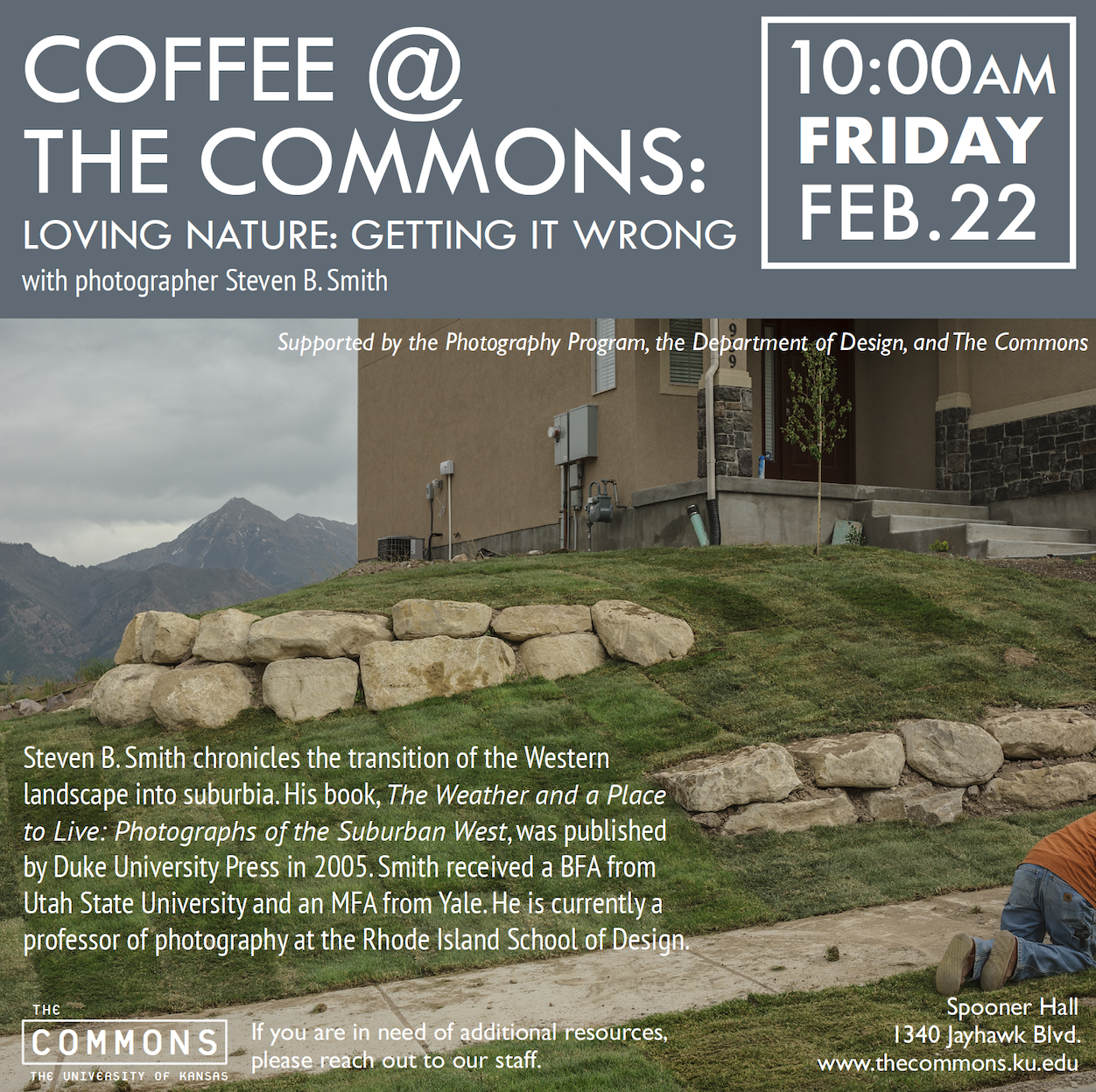 February 14, 2019 - Donna Zuckerberg, Author
Donna Zuckerberg is the author of Not All Dead White Men (Harvard University Press, 2018), which explores online communities of the far right to better understand why and where antifeminism is thriving online. It examines virtual communities where men express fear about having lost privilege and power and strategize about how to reclaim them. Zuckerberg links this movement to ancient Greek and Latin texts, citing the model of masculinity they purport, as a way to preserve and protect men's rights.

This Coffee @ The Commons event will focus on how scholars can and should respond to this kind of misogynist material when they encounter it.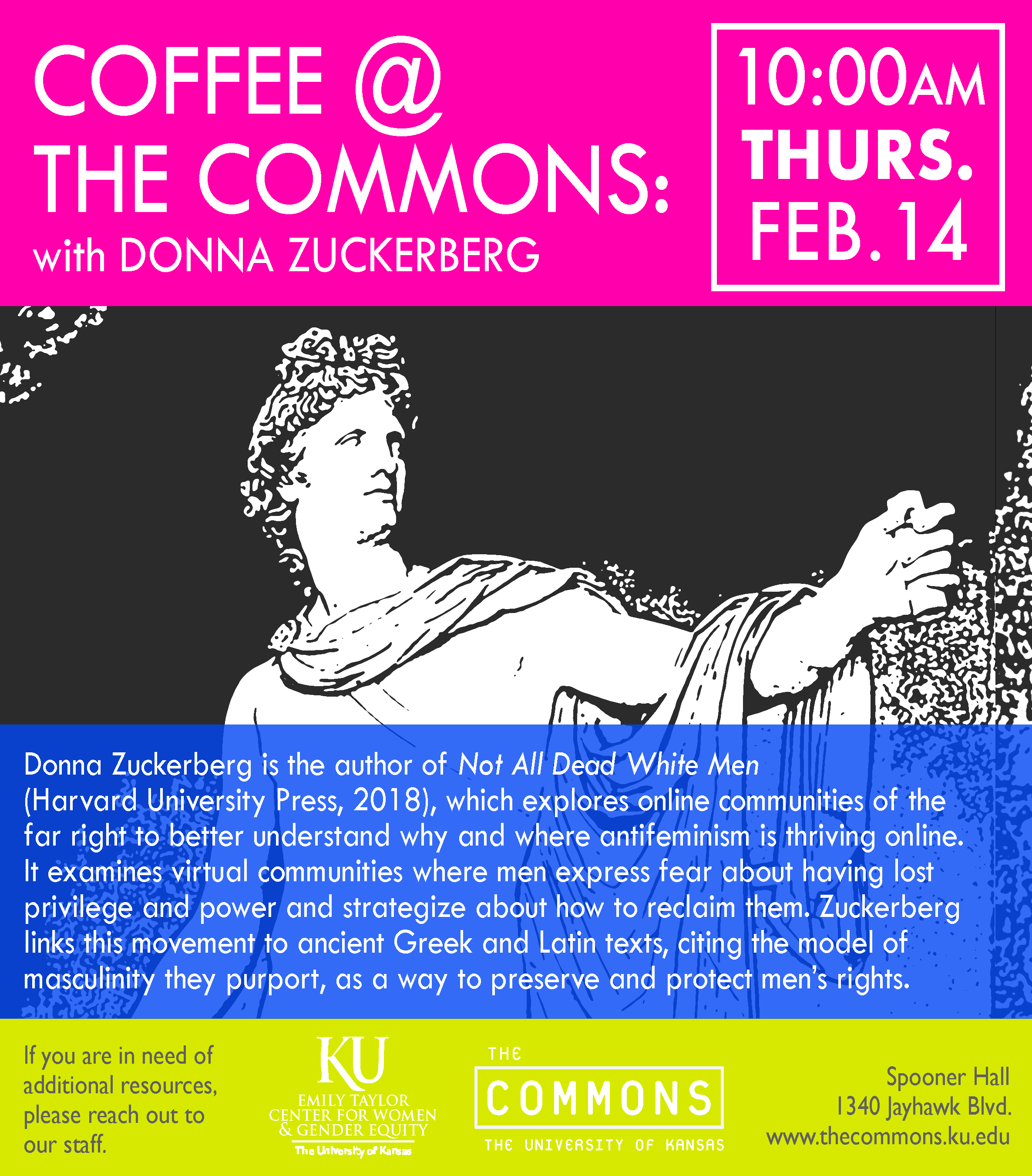 November 30, 2018 - Priya Kambli, Artist
Kambli began her career in 1993 at age 18 after emigrating to the States. The death of her parents, her experience as a migrant, and her photographic inheritance
have consistently informed her work. She received the Book Award through PhotoLucinda's Critical Mass for her 2010 series Color Falls Down, which was inspired by the questions Kavi, her son, asked at age three. Biculturality and being bilingual influence Kambli's work to this day. She is a professor of art at Truman State University in Kirksville, MO.

Priya Kambli will speak at 6:00pm on November 29 in Budig Hall, as part of the Hallmark Symposium Lecture Series.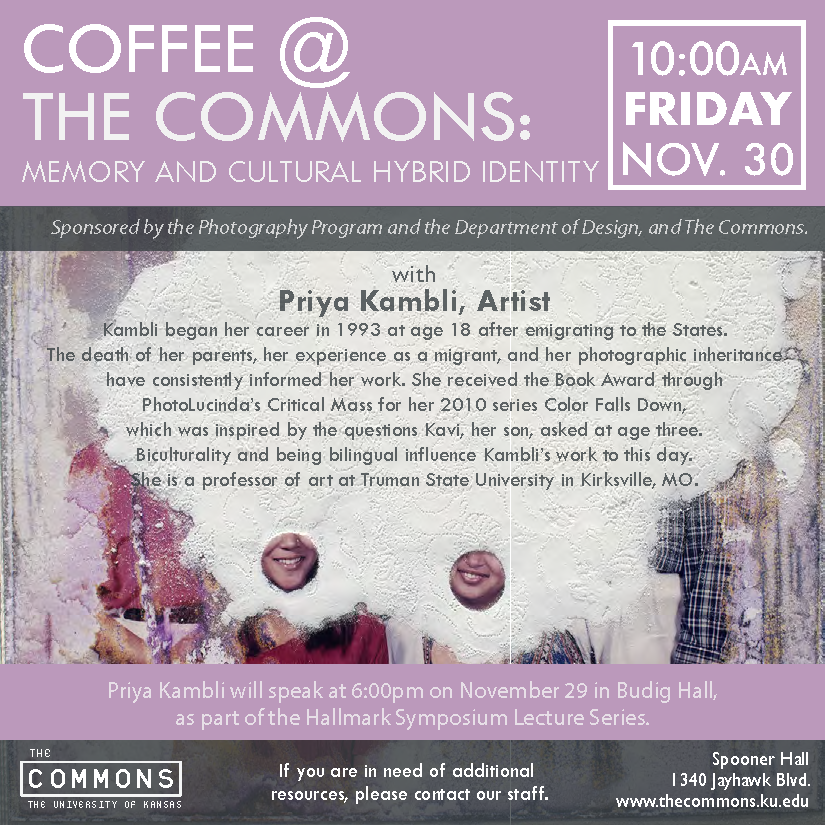 October 26, 2018 - Roderick Ferguson, Roderick Ferguson, Professor of African American Studies and Gender and Women's Studies
Roderick Ferguson, Professor of African American Studies and Gender and Women's Studies at the University of Illinois at Chicago, will deliver the annual Bill Tuttle Distinguished Lecture in American Studies at 4:00pm on Thursday, Oct. 25. The following morning, we invite you to join him in a Coffee @ The Commons conversation, on the topic of "Queer of Color Critique Meets Student Protest."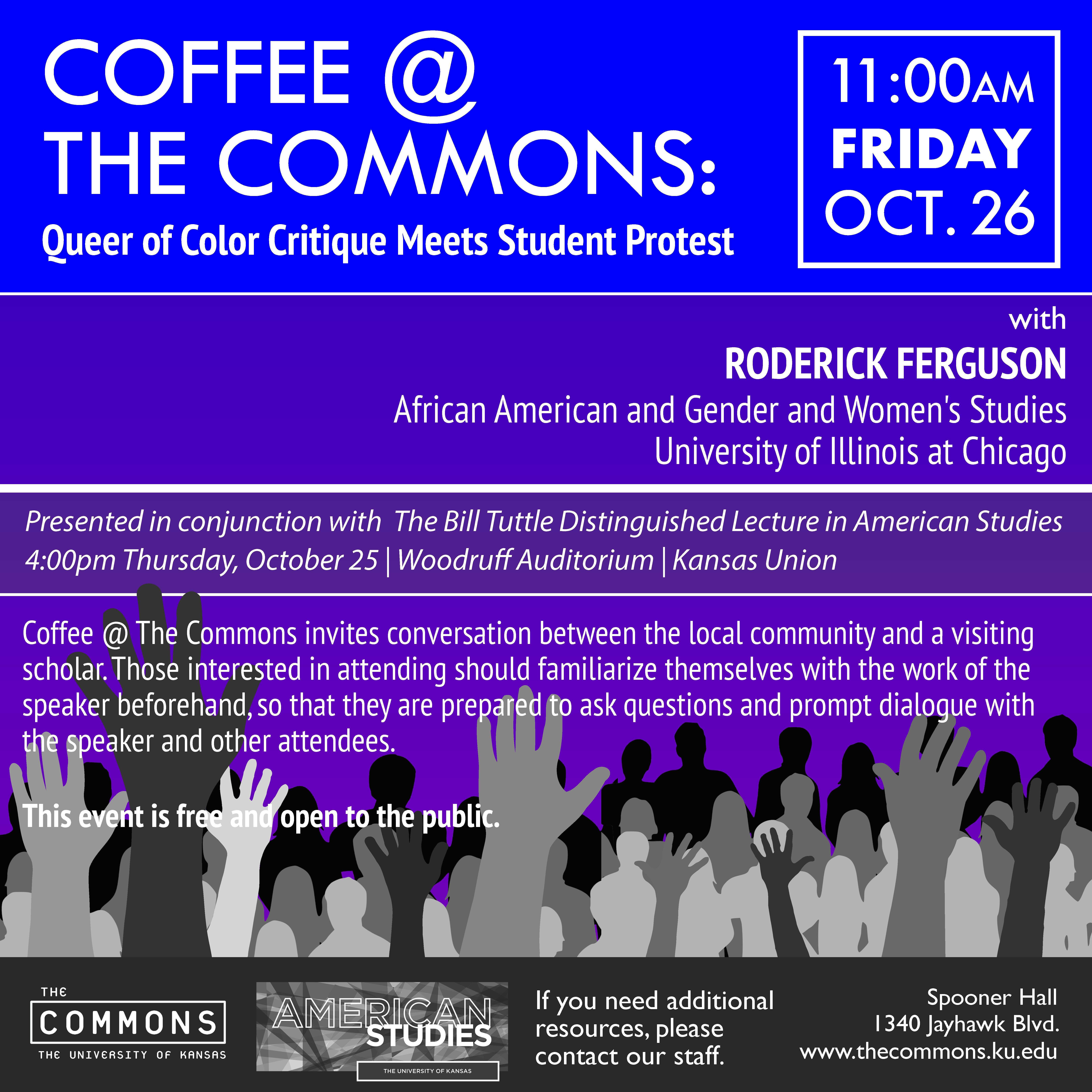 September 21, 2018 - Michelle Tea, Author, Poet, Organizer
After Michelle Tea's presentation on Thursday evening, join us for a discussion inspired by her writing.

Coffee @ The Commons is intended to provide a venue for conversation between interested members of the community and a visiting scholar. It is a free event, open to KU faculty, staff, and students, as well as members of the larger Lawrence community. Those interested in attending should familiarize themselves with the work of the speaker beforehand, so that they are prepared to ask questions and prompt dialogue with the speaker and other attendees.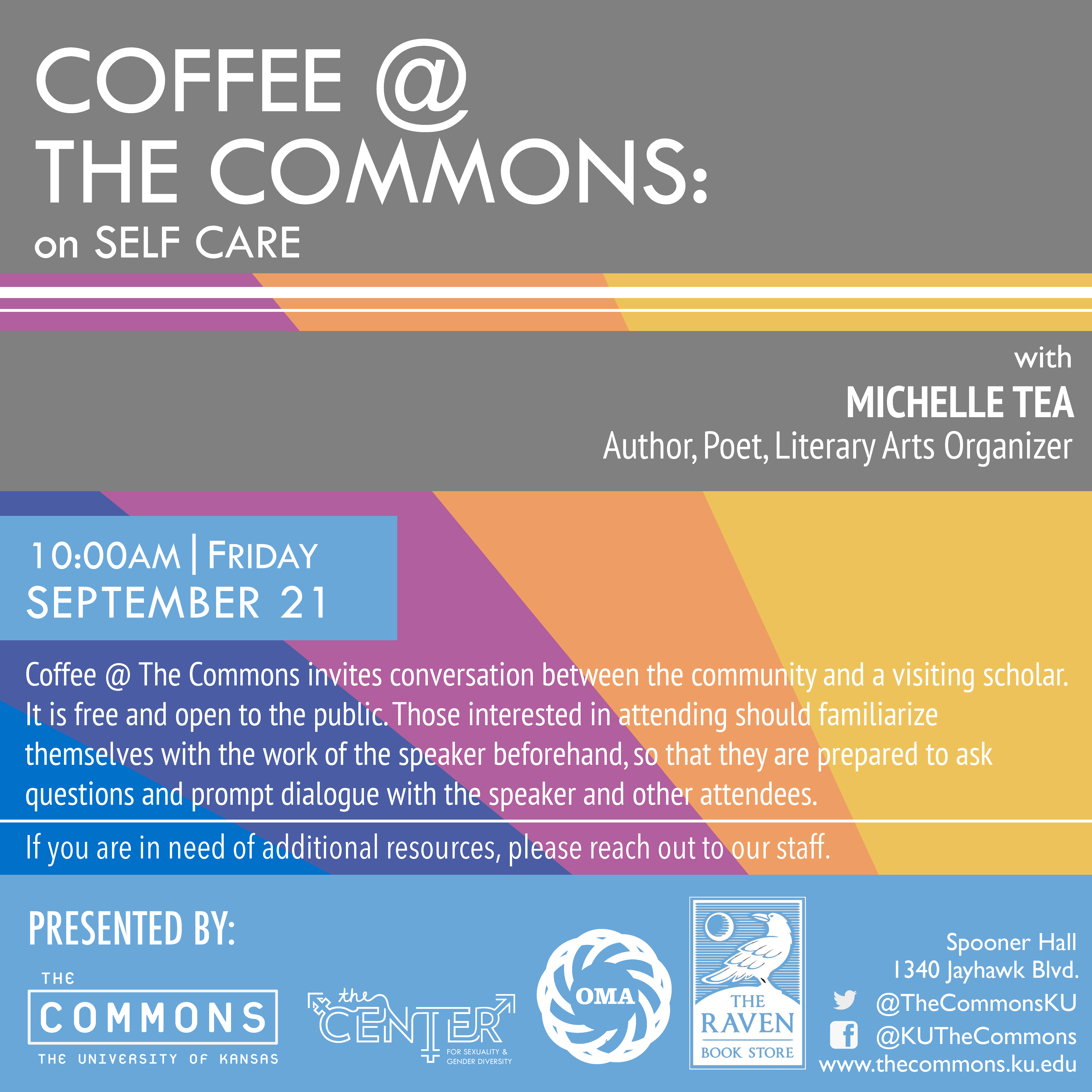 May 3, 2018 - Timothy Morton, Philosopher
Join for conversation with Philosopher Timothy Morton on Humankind: Solidarity with Non-humans.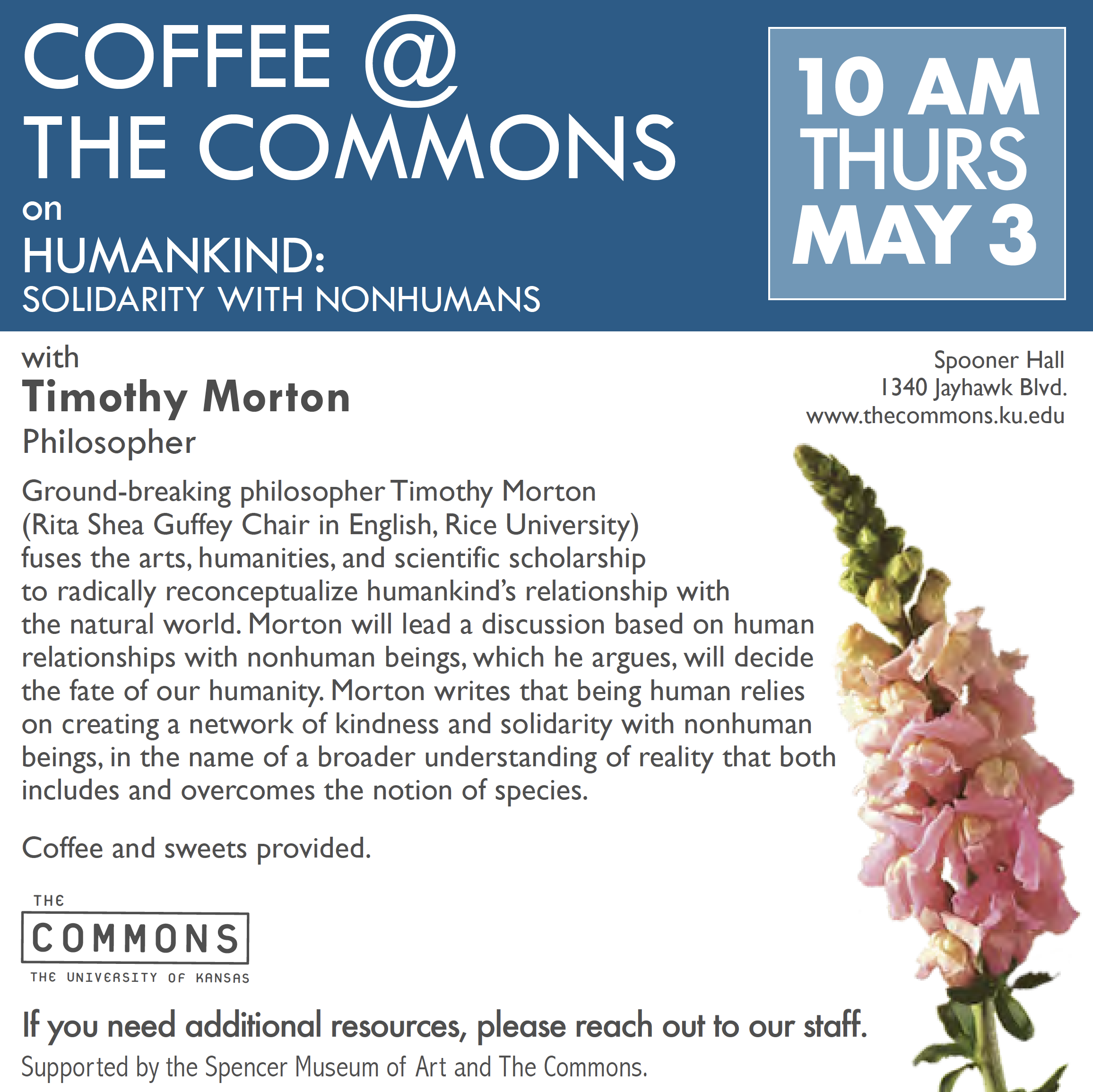 March 9, 2018 - RaMell Ross, Photographer, Filmmaker, Writer
Ross brings a lyrical magnifying glass to the history of South Alabama. His work interrogates aesthetic frameworks that constrict the expression of African Americans, often employing the integrity of social documentation and currency of stereotypical imagery.

Ross's photographs have been exhibited internationally, and his writing has appeared in the New York Times among other outlets. His first feature documentary, Hale County This Morning, This Evening, presents bold innovation to the form of portraiture in cinema and was awarded the U.S. Documentary Special Jury Award for Creative Vision at Sundance Film Festival 2018.

Ross earned a BA in both English & Sociology at Georgetown University and an MFA at the Rhode Island School of Design. He currently teaches in the Visual Arts Department at Brown University.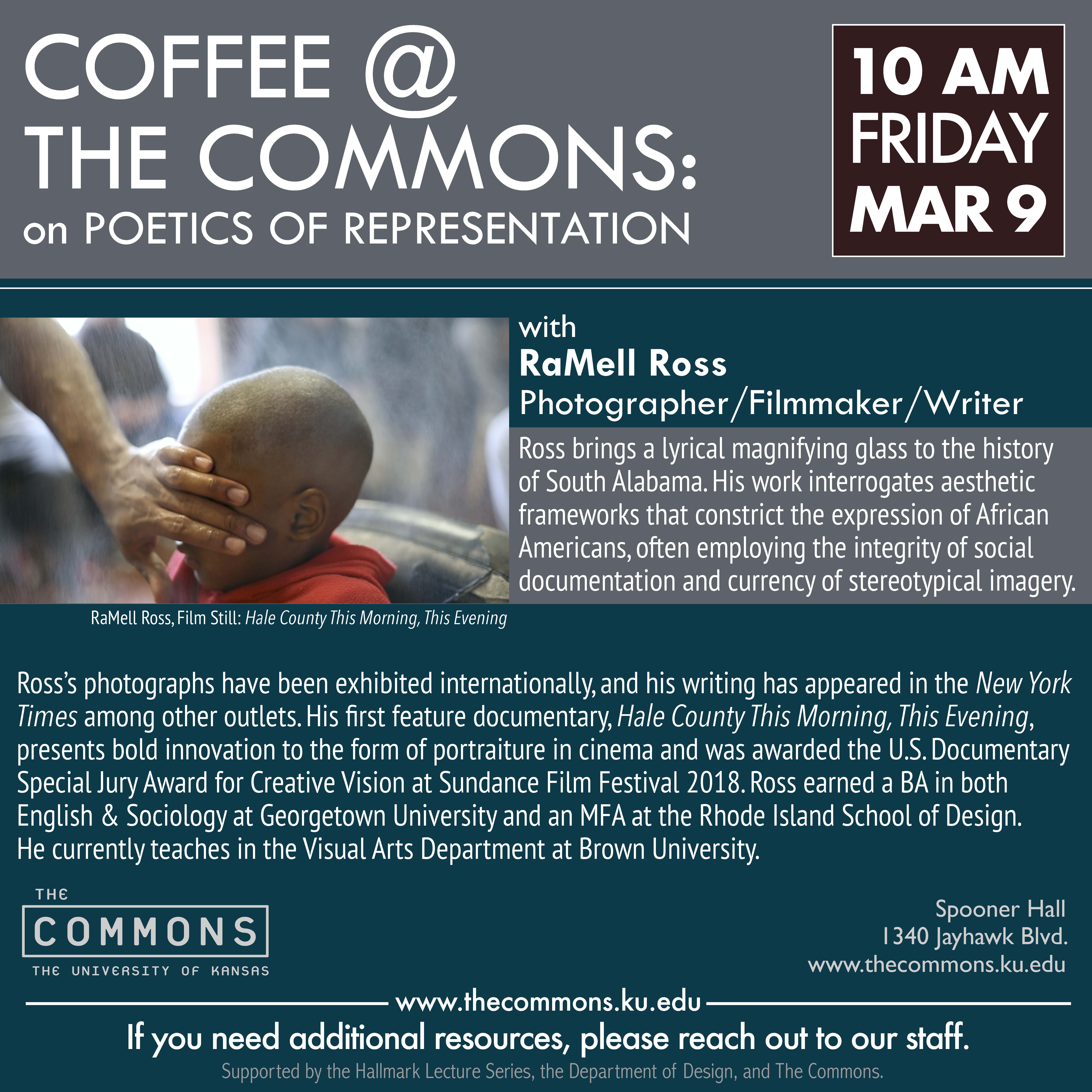 November 30, 2017 - Justin Kimball, Photographer
Kimball is known for his images from small, all but defunct towns in New York, Massachusetts and Pennsylvania, many of which were company towns whose economies relied on natural resources, such as coal, steel, lumber, paper and farming. The pictures are of the people who live in these towns now, as well as their homes and back yards, and the streets and the buildings that once supplied the town with its livelihood and economy. While the pictures are about a specific region, they also point to a growing invisible, yet ubiquitous, part of the American landscape. The work is meant to pose questions about what happens when things get hard. They evoke questions about struggle, hope, and what it is to be human.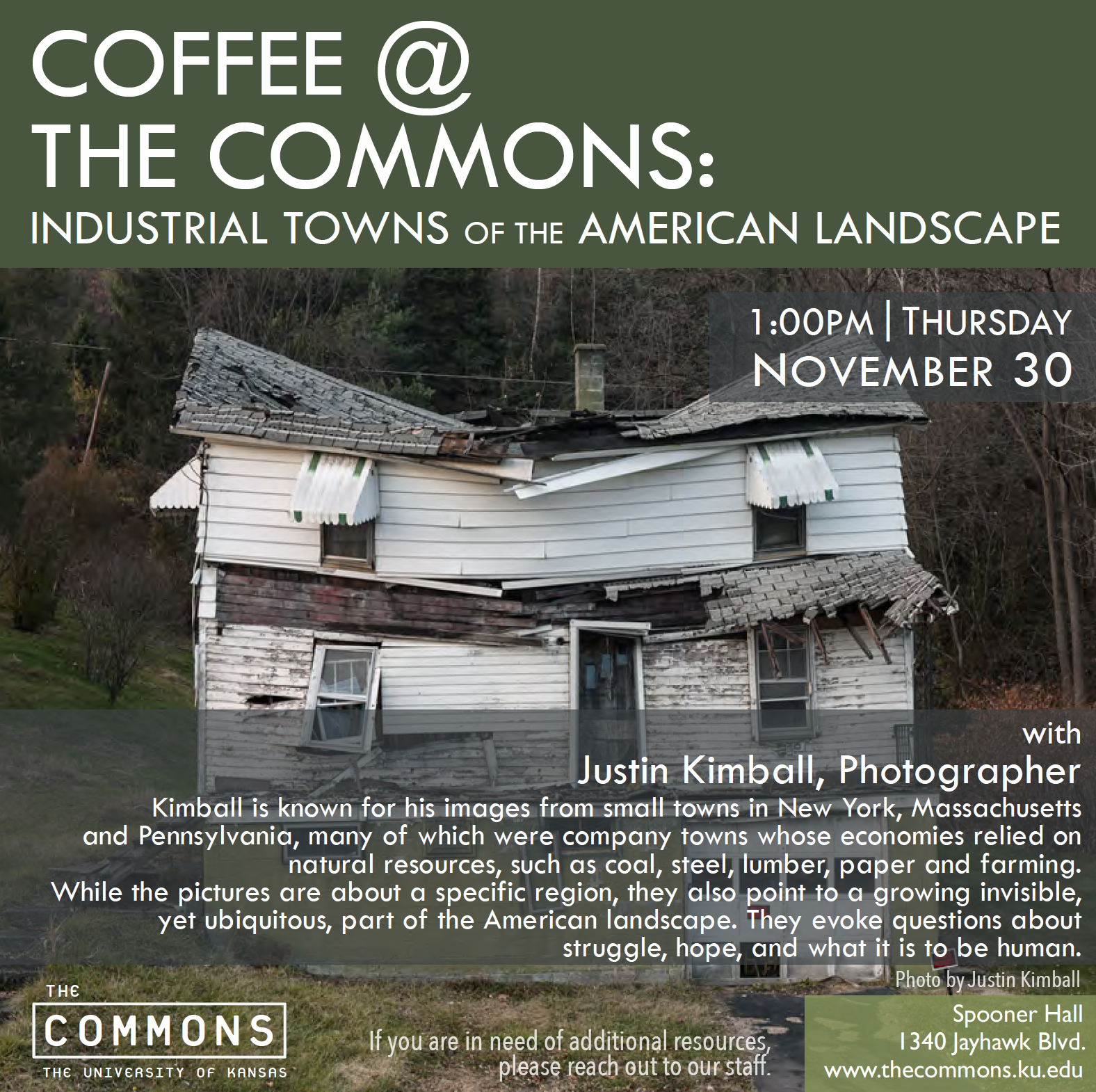 October 20, 2017 - Sandra Kim, Executive Director, Everyday Feminism
Kim will speak at 6:00pm on October 19 at Capitol Federal Hall about Compassionate Activism, a project of Everyday Feminism. Everyday Feminism's mission is to help people dismantle everyday violence, discrimination, and marginalization through applied intersectional feminism and to create a world where self-determination and loving communities are social norms through compassionate activism.

For more information about Everyday Feminism and Sandra Kim's Compassionate Activism model, please visit: http://www.compassionateactivism.com/about/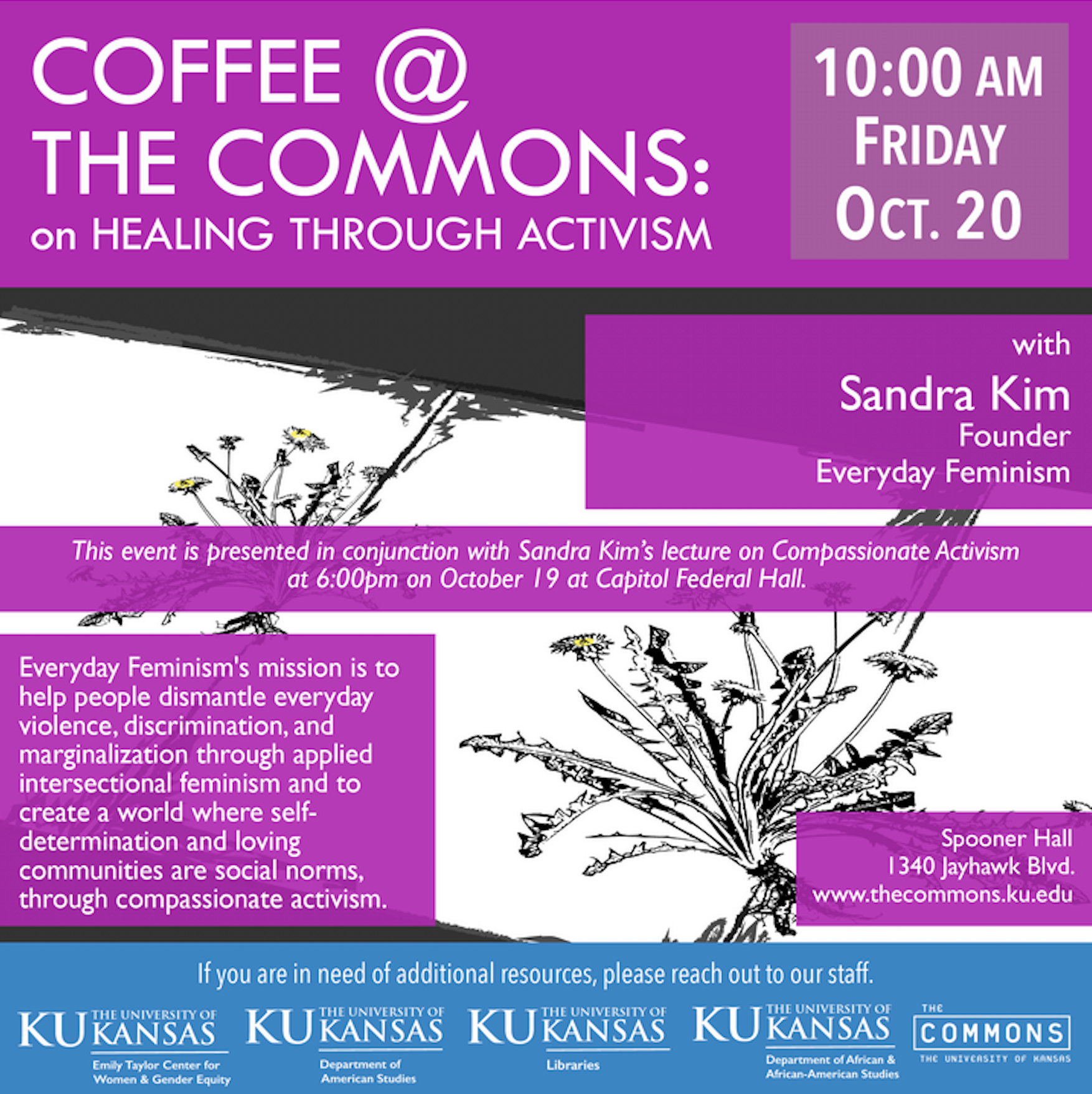 October 11, 2017 - Mapping the (Post)human: Yuval Harari and the Next Dominant Species
Panelists:
Arnab Chakraborty, English;
Ramón Alvarado, Philosophy;
Jennifer Abercrombie Foster, Spanish & Portuguese;

Discussion Moderator: Christina Lord, French & Italian

Author of the international bestseller Sapiens (2014) and 2017 "sequel" Homo Deus, Israeli historian Yuval Harari presents arguments regarding the rise and potential fall of humanity. According to Harari, human dominance is due to widespread belief in fictions (religion, money, data). But what will the future hold as superintelligent computers evolve? What is the difference between intelligence and consciousness? Will humans evolve or become obsolete in the face of artificial intelligence? Join us for a discussion of Harari's mapping of the (post)human based on an interview between Harari and Vox's Ezra Klein.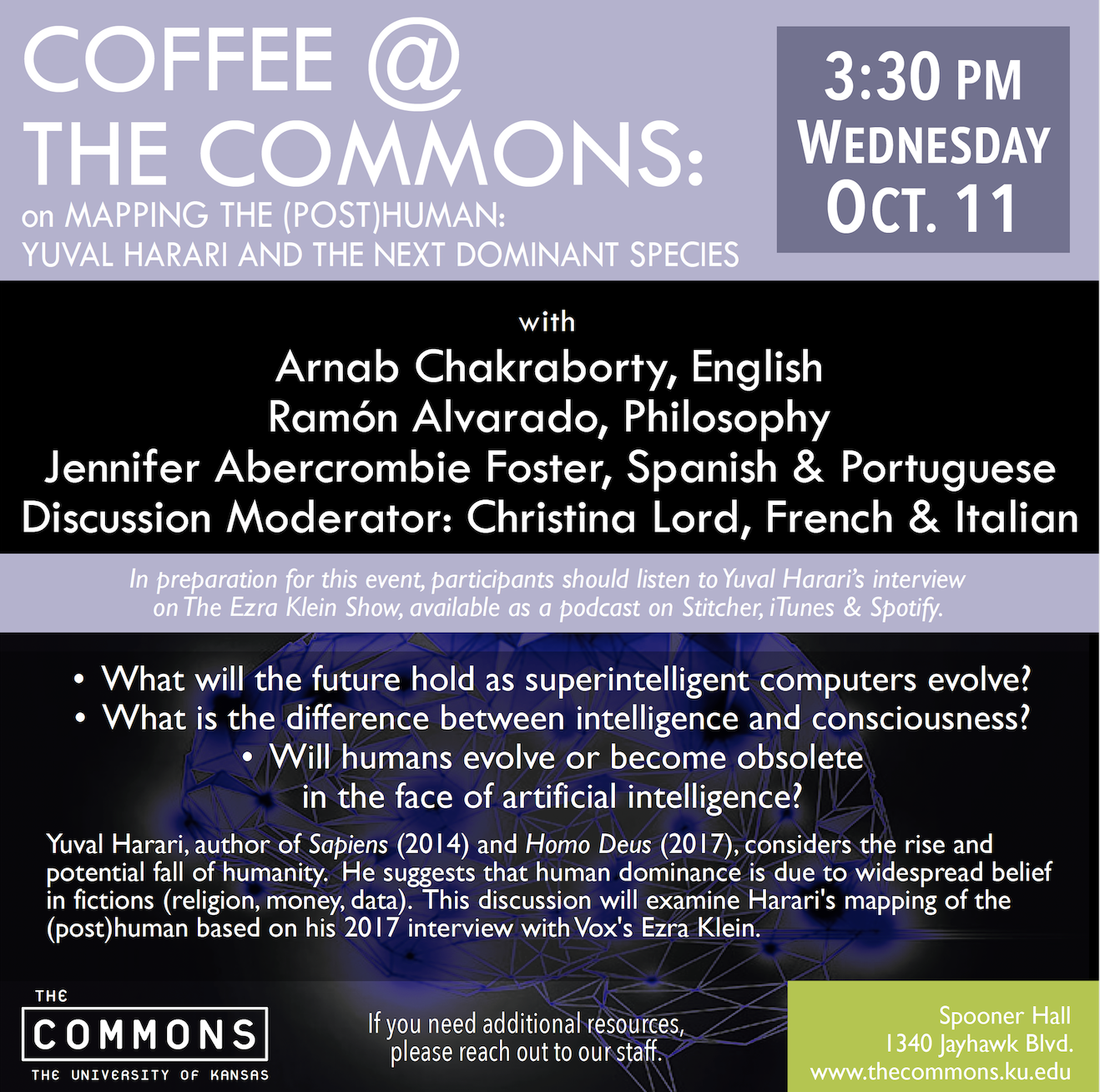 September 8, 2017 - Confederate Monuments
Panelists:
Lua Yuille, Law;
Randall Fuller, English;
Shawn Leigh Alexander, African & African-American Studies

In the national debate about the future of Confederate monuments, what should be taken into consideration?

The conversation will begin with an introduction from Lua Yuille, Randall Fuller, and Shawn Alexander. Afterward, it will turn into a dialogue with those in attendance.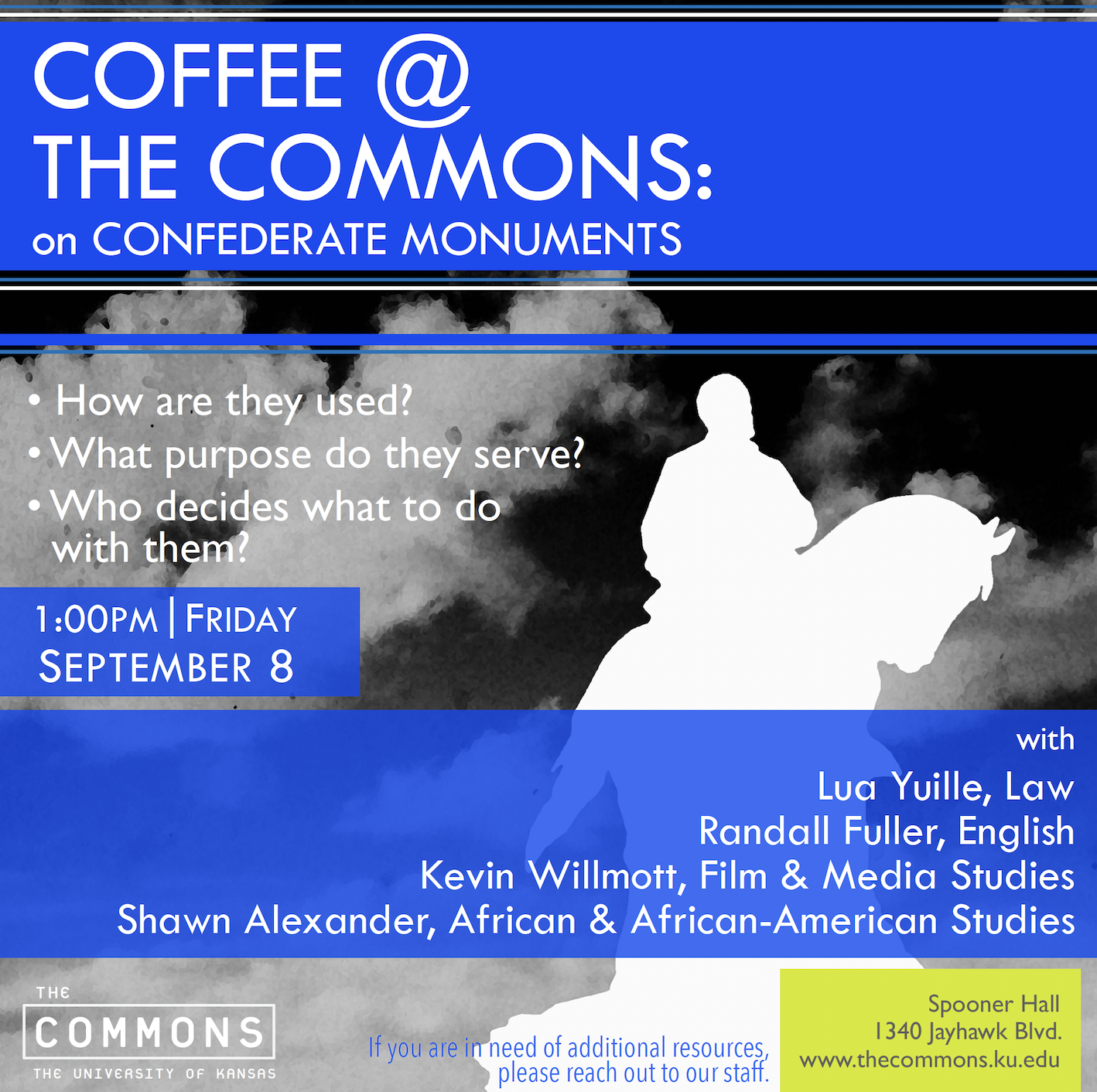 February 24, 2017 - Natalie Krick, Photographer
Natalie Krick (b. 1986) lives in Seattle, Washington. She completed a BFA in Photography at the School of Visual Arts in 2008 and an MFA in photography at Columbia College Chicago in 2012. She has recently exhibited at Aperture Gallery in New York, at David Weinberg Gallery in Chicago, and at the Colorado Photographic Arts Center in Denver. In 2015, she received an Individual Photographer's Fellowship from the Aaron Siskind Foundation.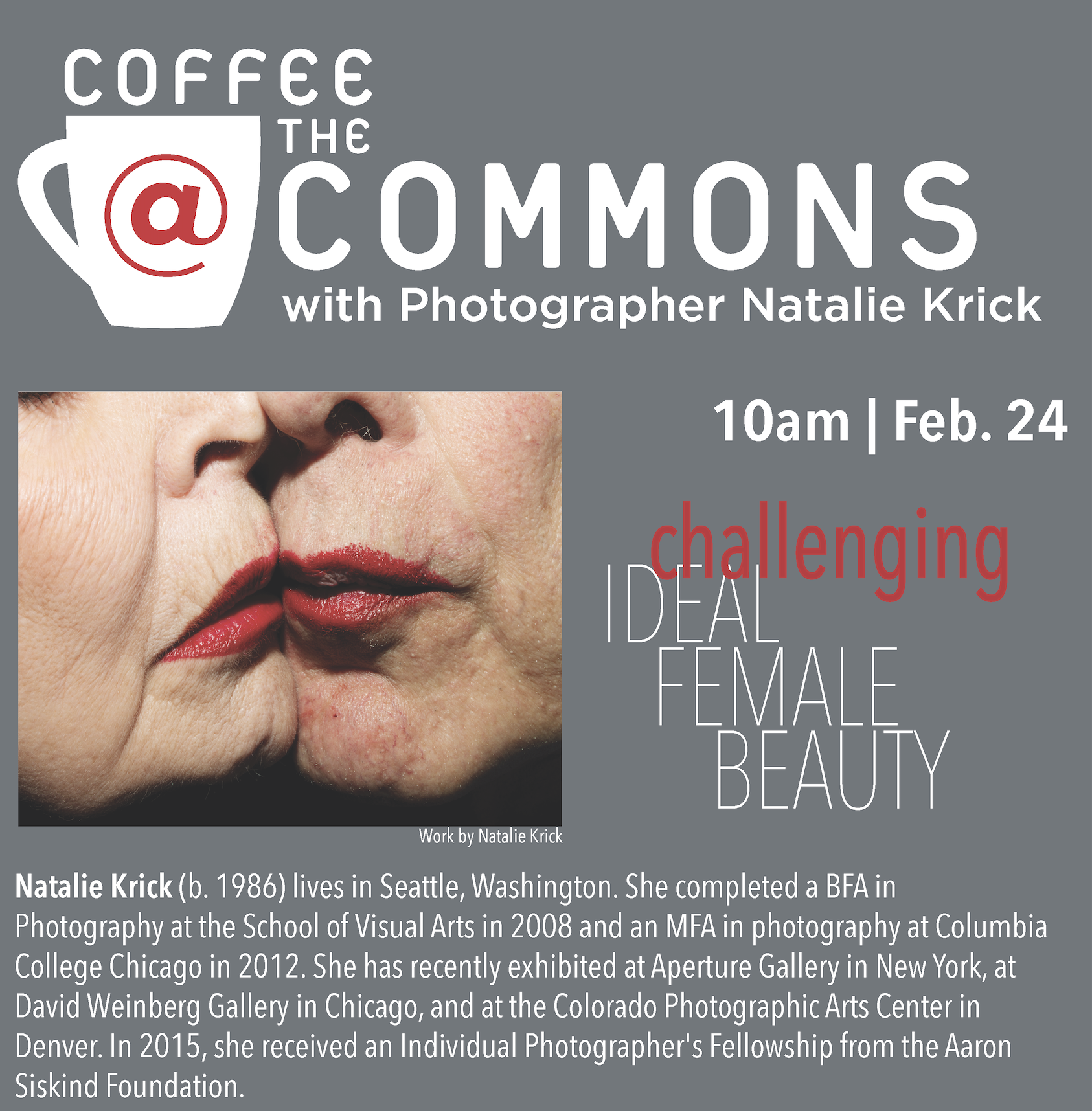 February 17, 2017 - Sarah Schulman
Sarah Schulman is a novelist, nonfiction writer, playwright, screenwriter, journalist and AIDS historian, and the author of eighteen books. A Guggenheim and Fulbright Fellow, Sarah is a Distinguished Professor at the City University of New York, College of Staten Island, and on the advisory board of Jewish Voice for Peace. She is the Co-Founder of MIX: NY LGBT Experimental Film and Video Festival, Co-Director of ACT UP Oral History Project, and the US Coodinator of the first LGBT Delegation to Palestine. She was also the Coordinator of the HOMONATIONALISM and PINKWASHING CONFERENCE at the City University of New York Graduate Center, Center for Lesbian and Gay Studies (April, 2013). She is also a member of the advisory board of Jewish Voice for Peace, and is a fellow at the NY Institute for the Humanities at NYU.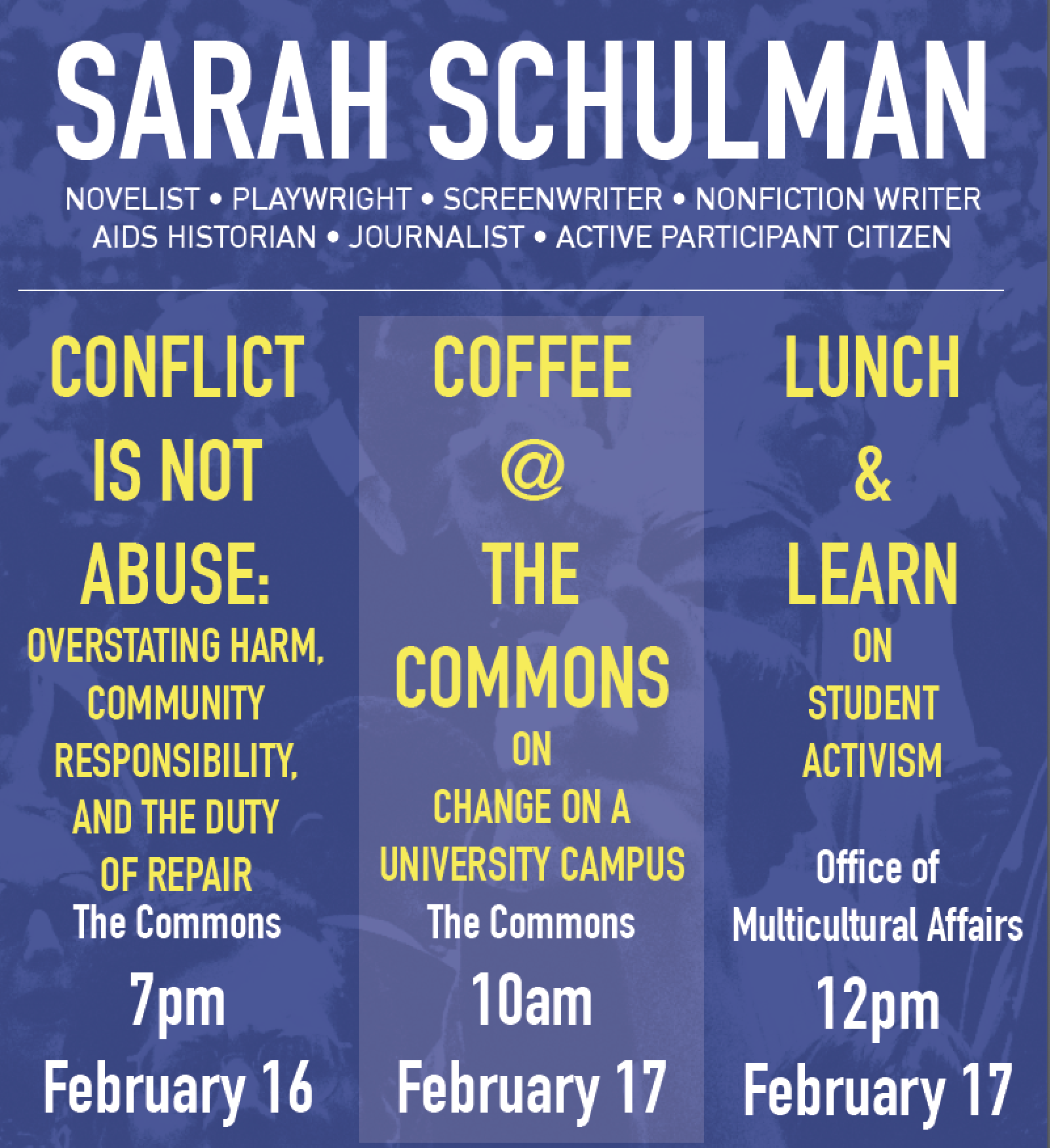 February 9, 2017 - Jessica Green on the Future University
Green is a world renowned scientist inspiring people to think about bacteria in entirely new ways. An Alec and Kay Keith Professor of Biology at the University of Oregon and professor at the Santa Fe Institute, Green is helping us see how the microbial blueprint of our bodies, homes, cities, and forests impacts our world, and our future. As co-founder and CTO of Phylagen, a DNA data harvesting and analytics company, Green envisions a future for urban design that promotes sustainability, human health, and well-being.

Green is currently spearheading efforts to model urban spaces as complex ecosystems that house trillions of diverse microorganisms interacting with each other, with humans, and with their environment. She calls it the "built environment microbiome." As founding director of the Biology and the Built Environment (BioBE) Center, she is working with architects and engineers to advance our understanding of how microbial communities assemble, interact, evolve, and influence public health. In addition, she is co-creating a graphic novel about the urban microbiome with graphic designer Steve Green and writer and TED Fellow Anita Doron.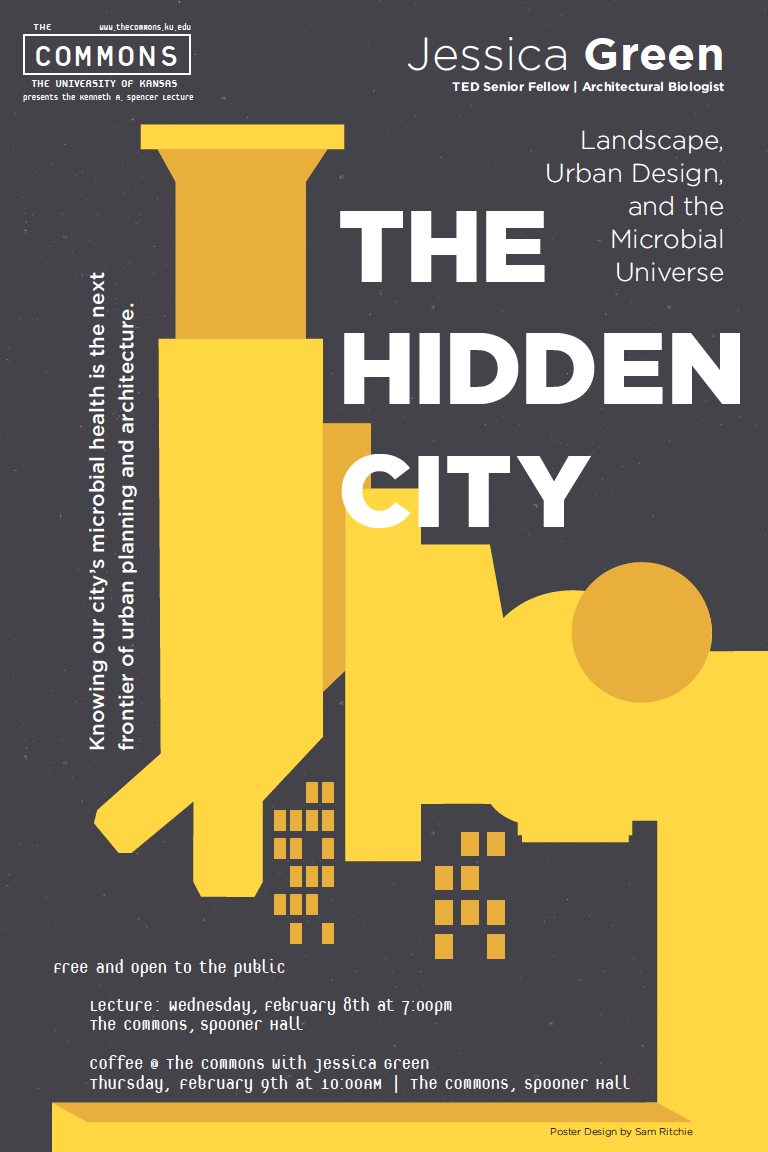 October 7, 2016 - Tomas Van Houtryve, Photographer
The Hallmark Corporate Foundation, the Department of Design, and The Photography Society at The Nelson-Atkins Museum of Art.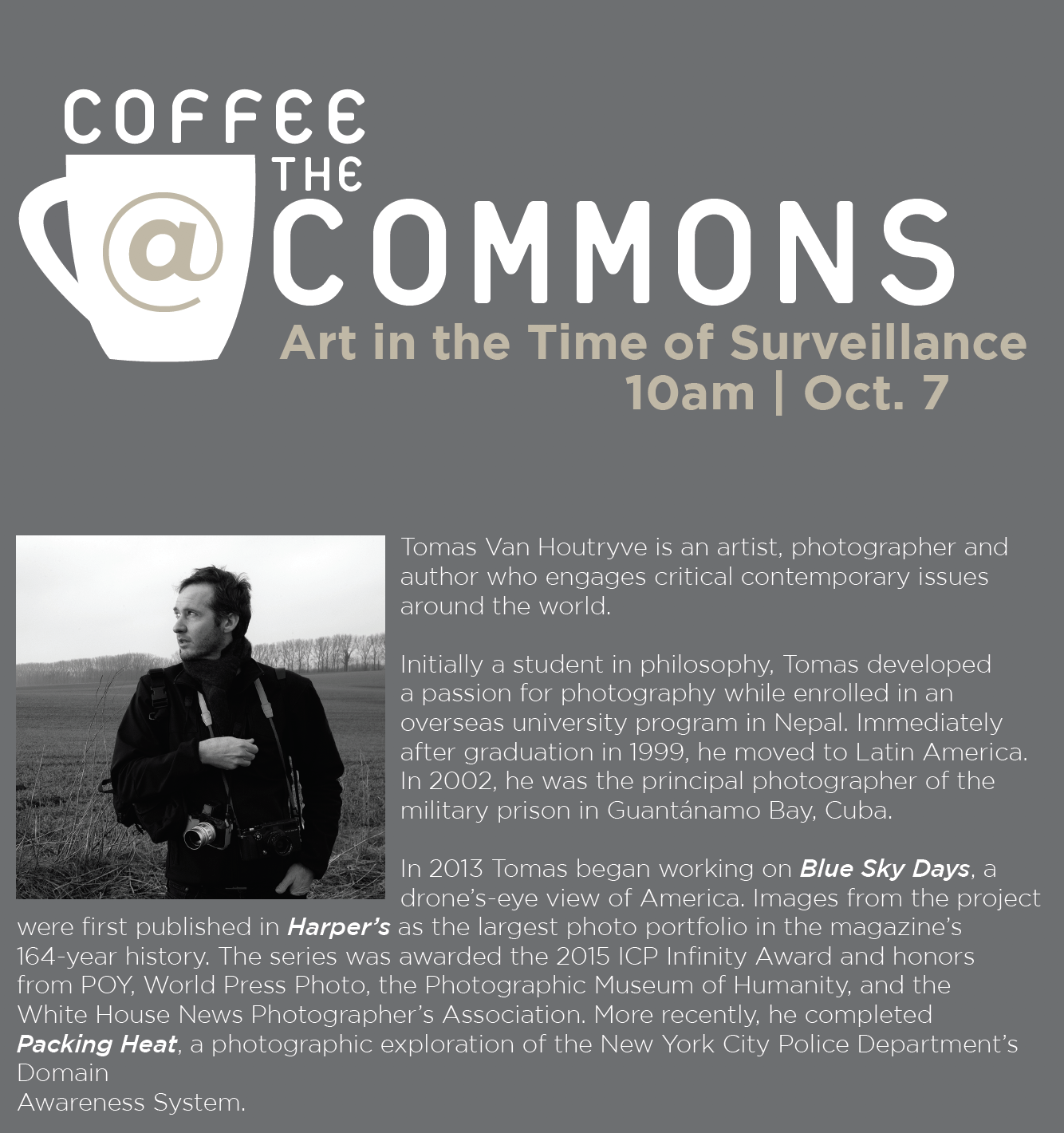 September 16, 2016 - Chimamanda Ngozi Adichie's "We Should All Be Feminists" in Context
Inspired by Chimamanda Ngozi Adichie's essay "We Should All Be Feminists," this event will begin with an introduction by three graduate students whose research connects to Adichie's work from different disciplinary perspectives. Charlesia McKinney, Chris Martin, and Jameelah Jones will share contributions from their research on related themes. After these contextual prompts, the audience is charged with carrying the conversation. Topics will include: intersectionality and construction of identity; how this work relates to contemporary literature; and more.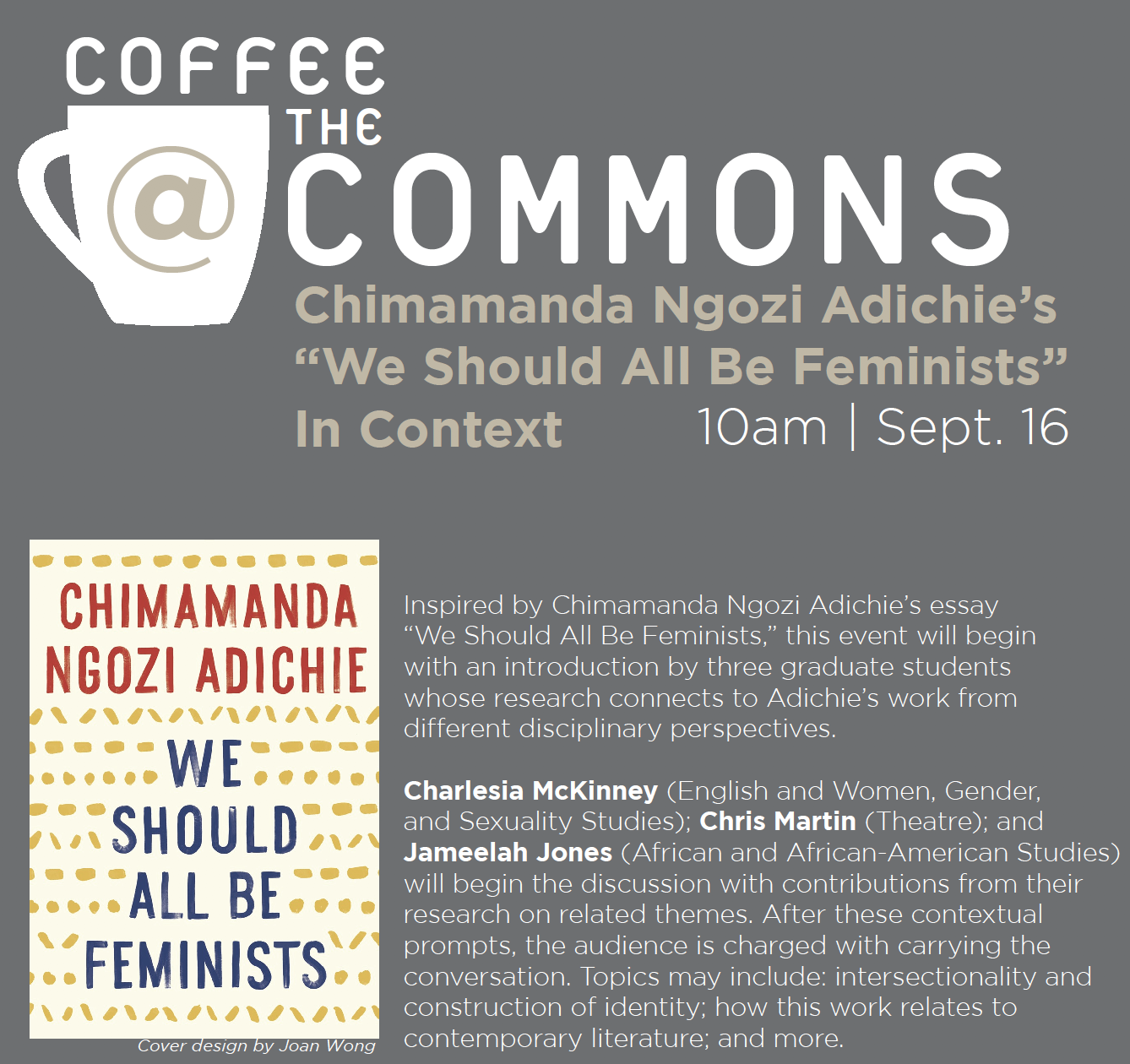 February 26, 2016 - Arno Minkkinen, Photographer
Arno Minkkinen is a Finnish
American photographer noted for
his unmanipulated nude selfportraits
in the landscape. Born in
Helsinki in 1945, he moved to
America with his family in 1951 and
grew up in Brooklyn. He attended
Wagner College, where he majored
in English. After five years in the
advertising business as a Madison
Avenue copywriter, he discovered
photography while working on the
Minolta camera account.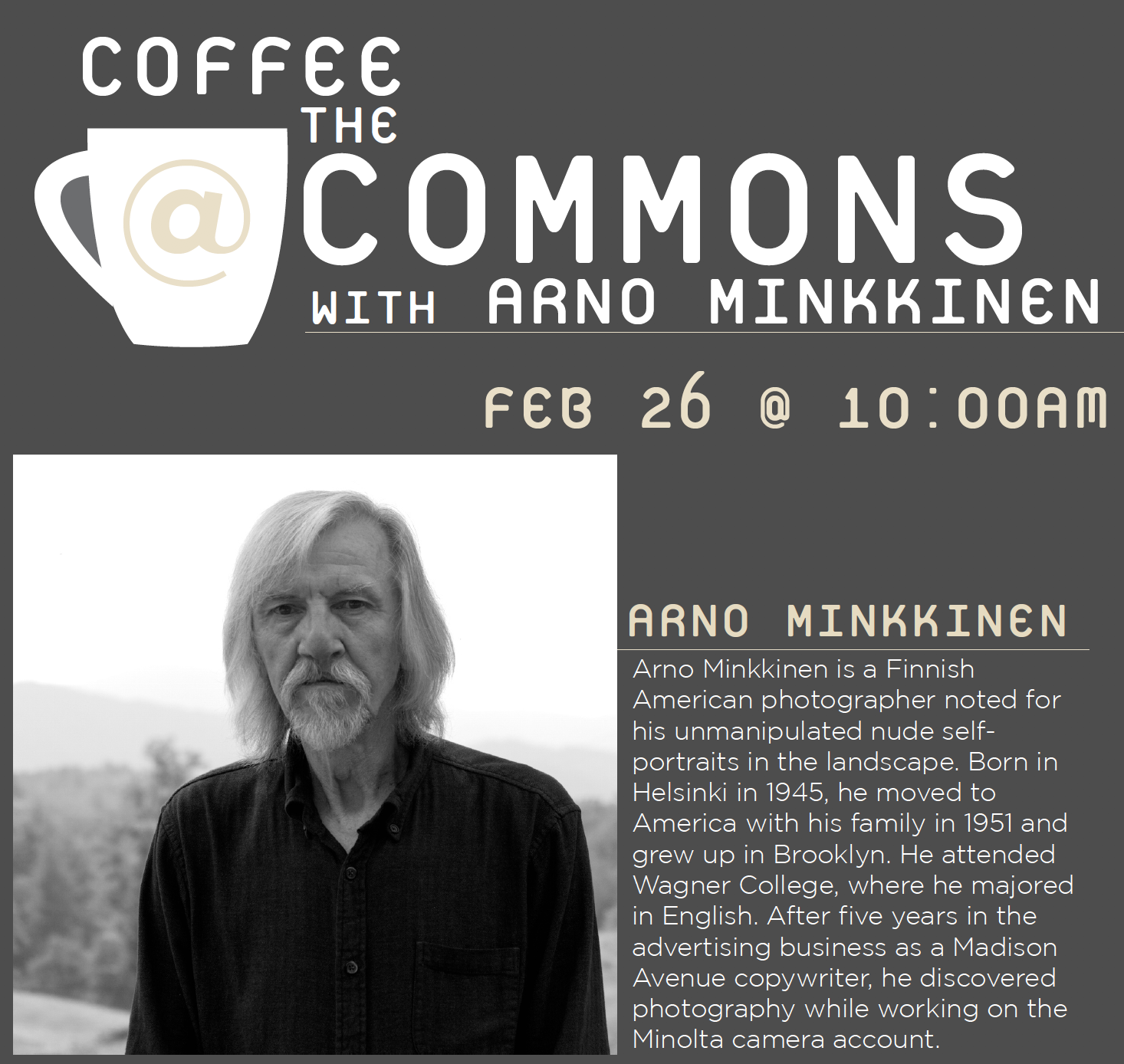 October 30, 2015 - Rania Matar, Photographer
Rania Matar is a highly
awarded photographer
whose work focuses on
girls and women. She was
born in Lebanon and
moved to the U.S. in 1984.
She has since returned to
Lebanon to teach photography workshops to teenage girls in refugee camps with
the assistance of non-governmental organizations.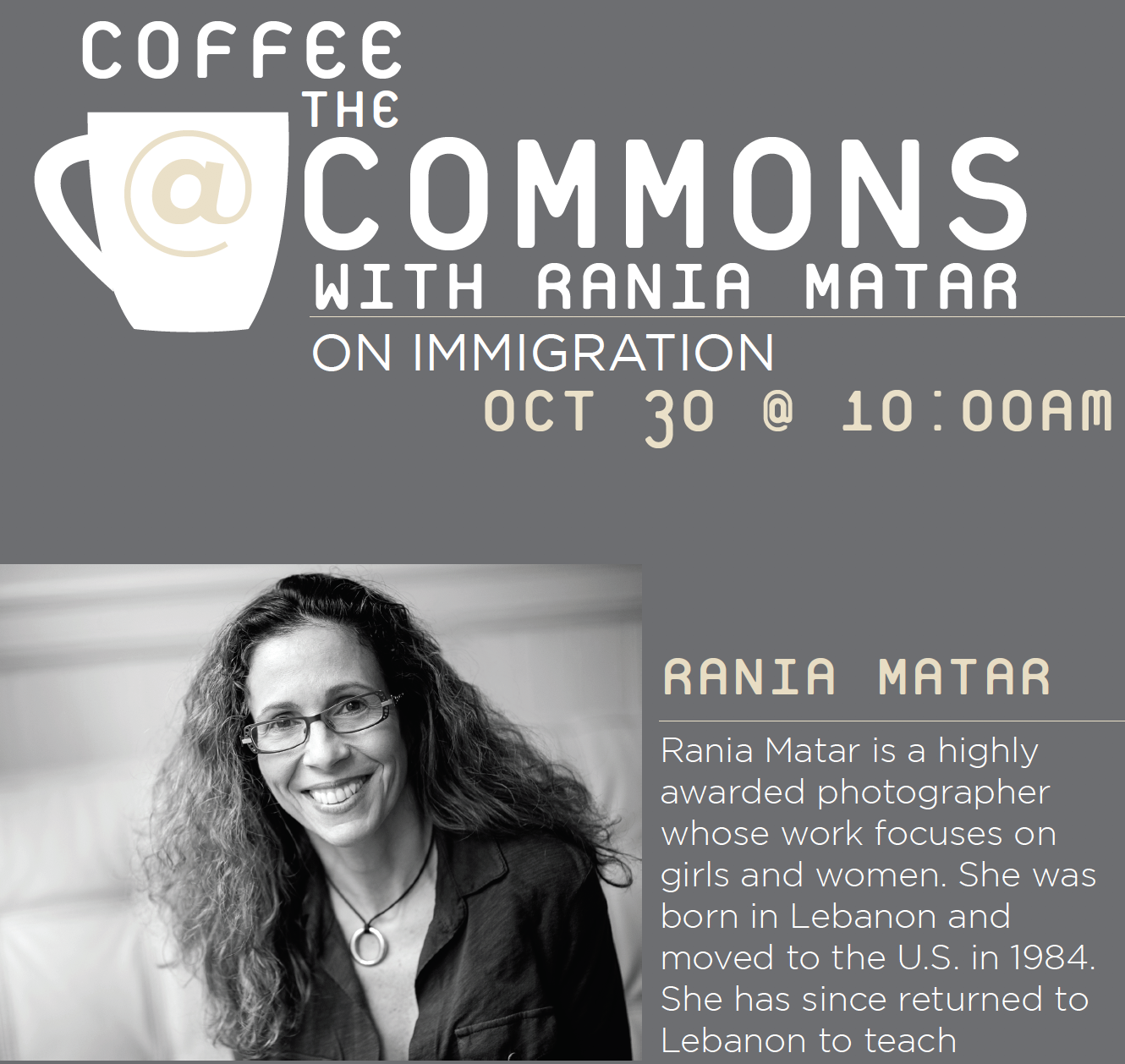 May 13, 2015 - Anju Bhasin
Professor of Physics & Electronics at Jammu University, India with The Commons and the Department of Physics & Astronomy

May 6, 2015 - Bill Jacobson, Photographer
Bill Jacobson has made photographs for over
forty years. Though his approach to making
images has varied considerably throughout
his career, the work is united by an underlying
concern with memory, perception, and the
dialogue between absence and presence.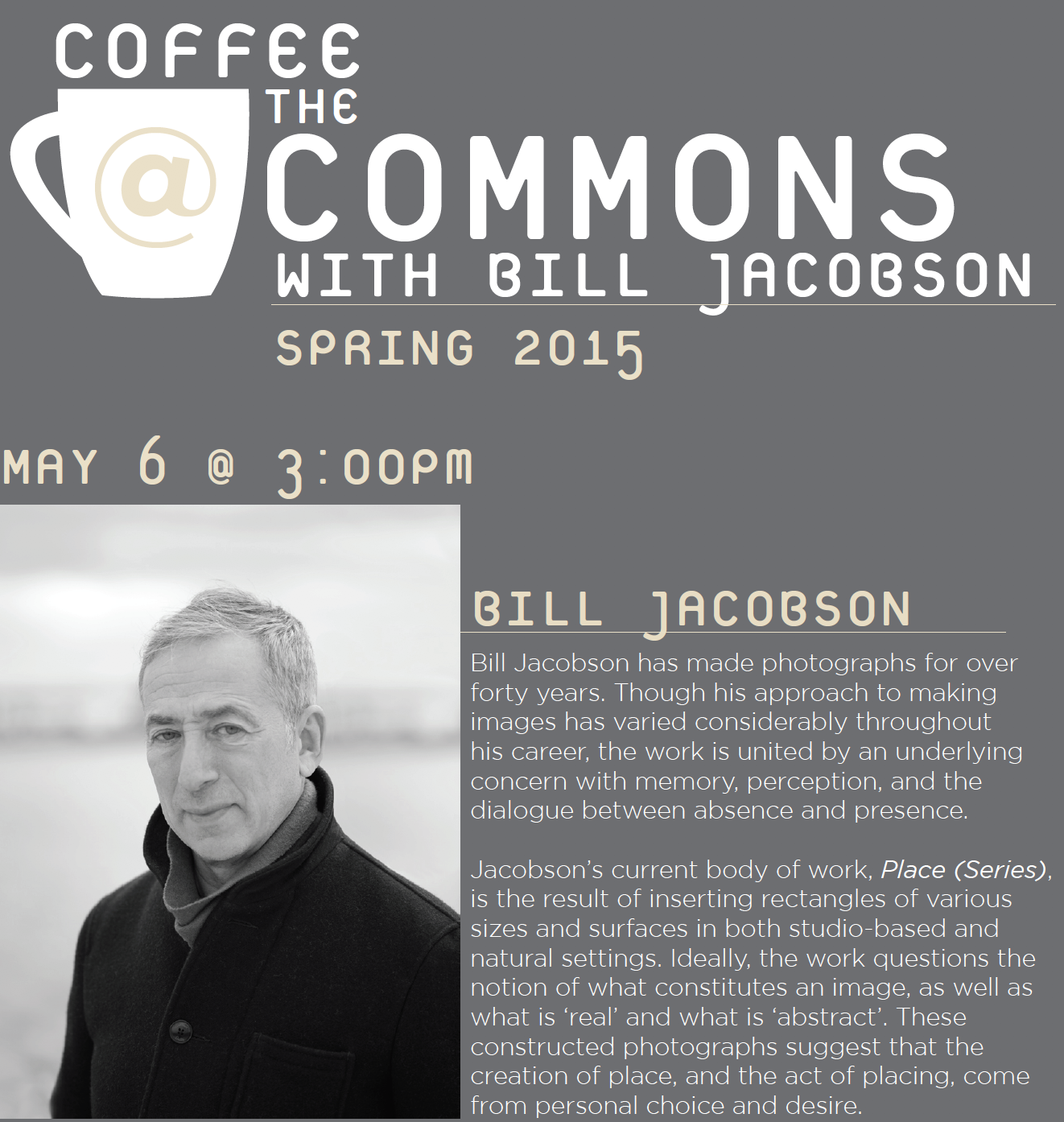 Tuesday, March 24, 2015 - Heather Harpham
Heather Harpham is a writer, performer and teacher of physical theater/improvisation. She is a Senior Teacher of Action Theater, a physical improvisation form, which synthesizes her early training in both theater and writing. Physical improvisation continues to be a generative source for her solo performances and collaborations. Together with Cassie & Danny Tunick, Harpham performs as part of the improvisational dance/theater company Second Nature. She is also a core member of the critically acclaimed physical theater group, Company SoGoNo.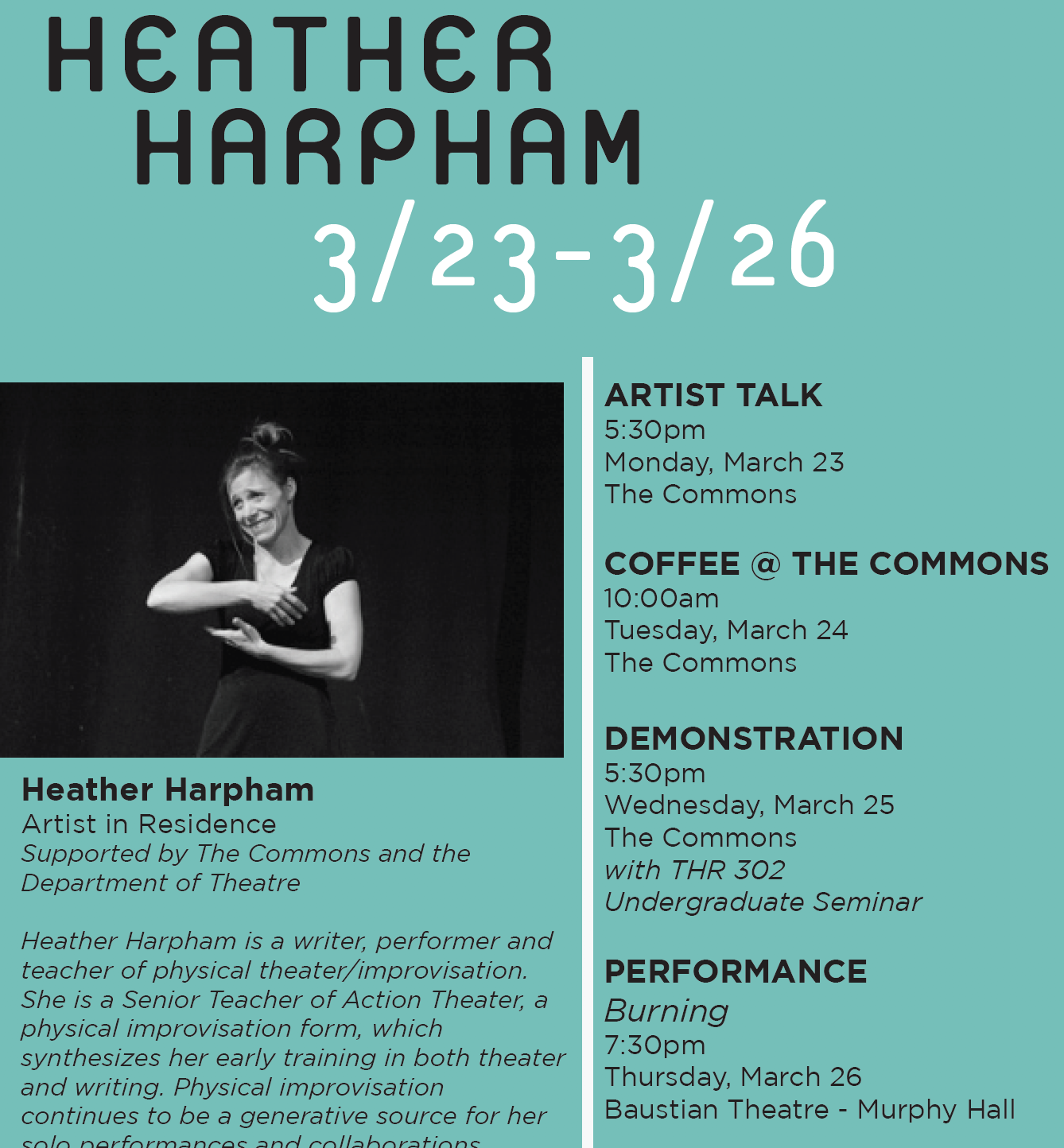 January 30, 2015 - Julie Blackmon, Photographer
Julie Blackmon is a photographer who draws
upon her experience growing up with a large
family to create her work.
She was born in Springfield, MO, and is the
oldest of nine children. Blackmon studied art
education and photography at Southwest
Missouri State University.
Her work is inspired by contemporary
photographers Sally Mann and Keith Carter.
Blackmon's signature is that she uses elements
everyday family life, often with her own children
as models, to create fantastical scenes.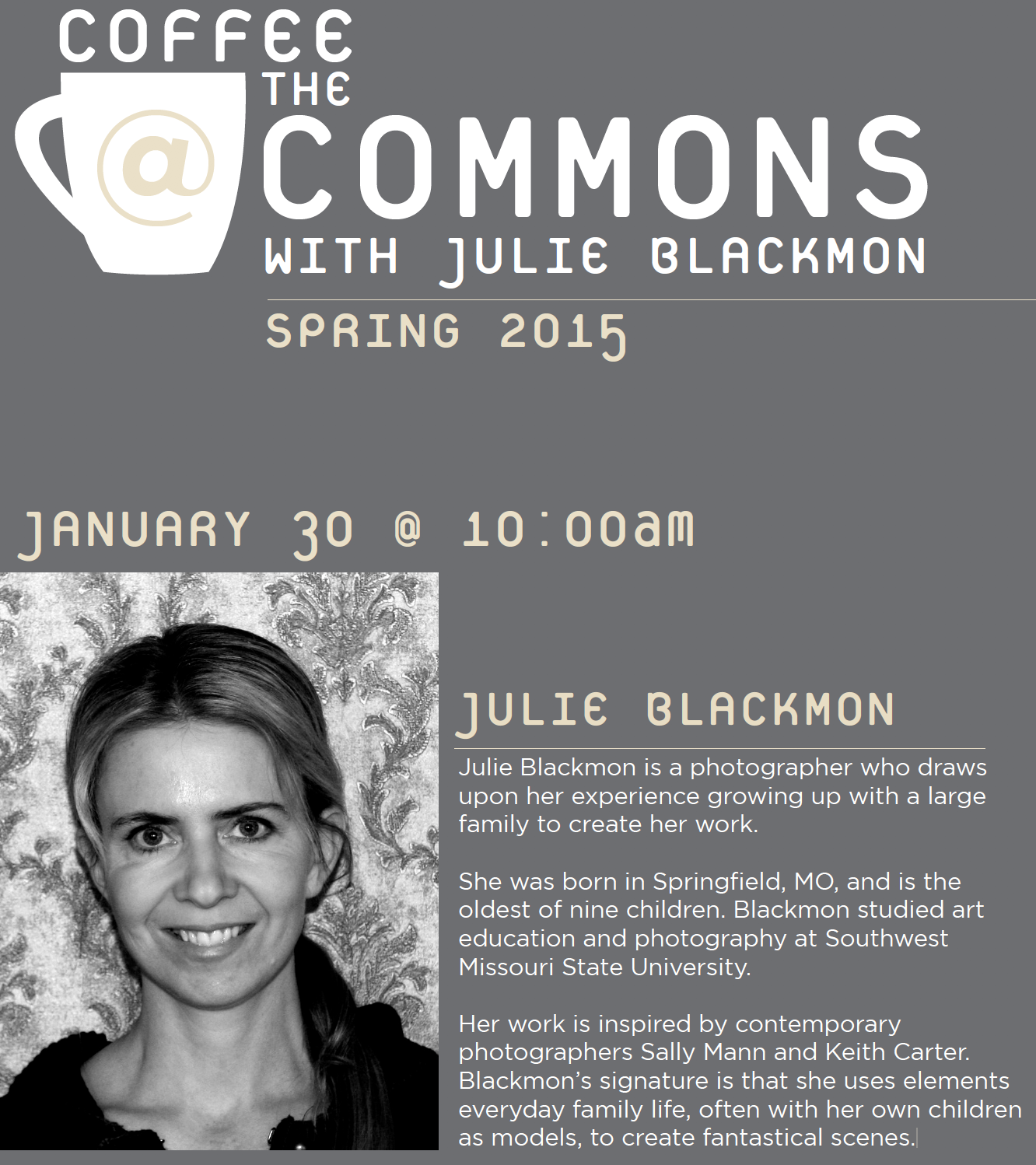 October 24, 2014 - Lori Nix, Photographer
Lori Nix is a photographer who is best
known for photographing constructed
subject matter. Nix was born in Norton, KS
and grew up in the Midwest. She earned a
BFA in ceramics, a BFA in photography, and
a BA in Art History from Truman State
College. Nix earned an MFA in photography
from Ohio University.
Nix constructs her dioramas by hand and uses
various methods, scale, and materials as she
creates the scenes she envisions for her
photographs.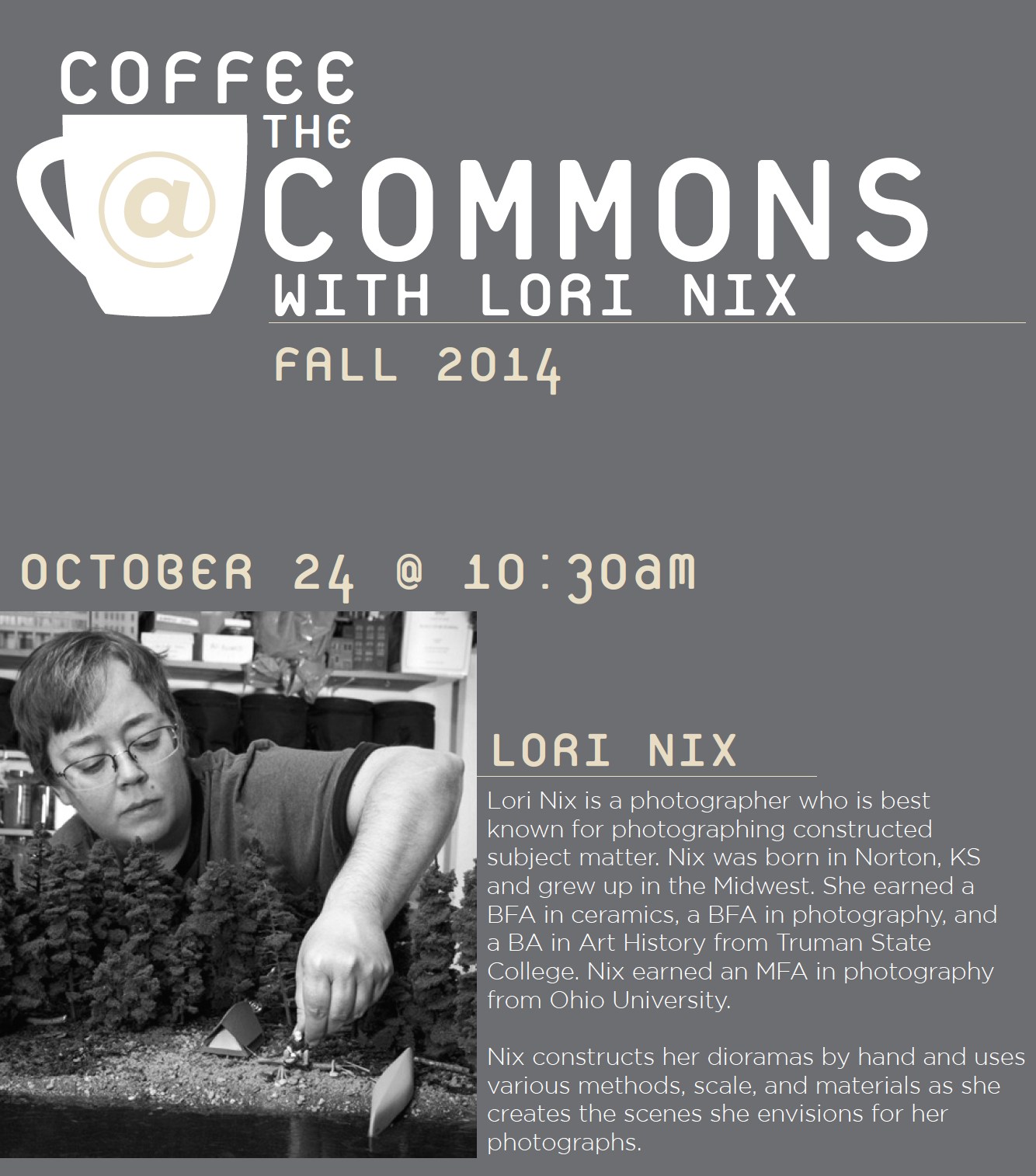 Wednesday, April 30, 2014 - David Rokeby, Artist
David Rokeby is an installation artist based in
Toronto, Canada. He has been creating and
exhibiting since 1982. For the first part of his
career he focused on interactive pieces that
directly engage the human body, or that
involve artificial perception systems. In the
last decade, his practice has expanded to
included video, kinetic and static sculpture.
His work has been performed / exhibited in
shows across Canada, the United States,
Europe and Asia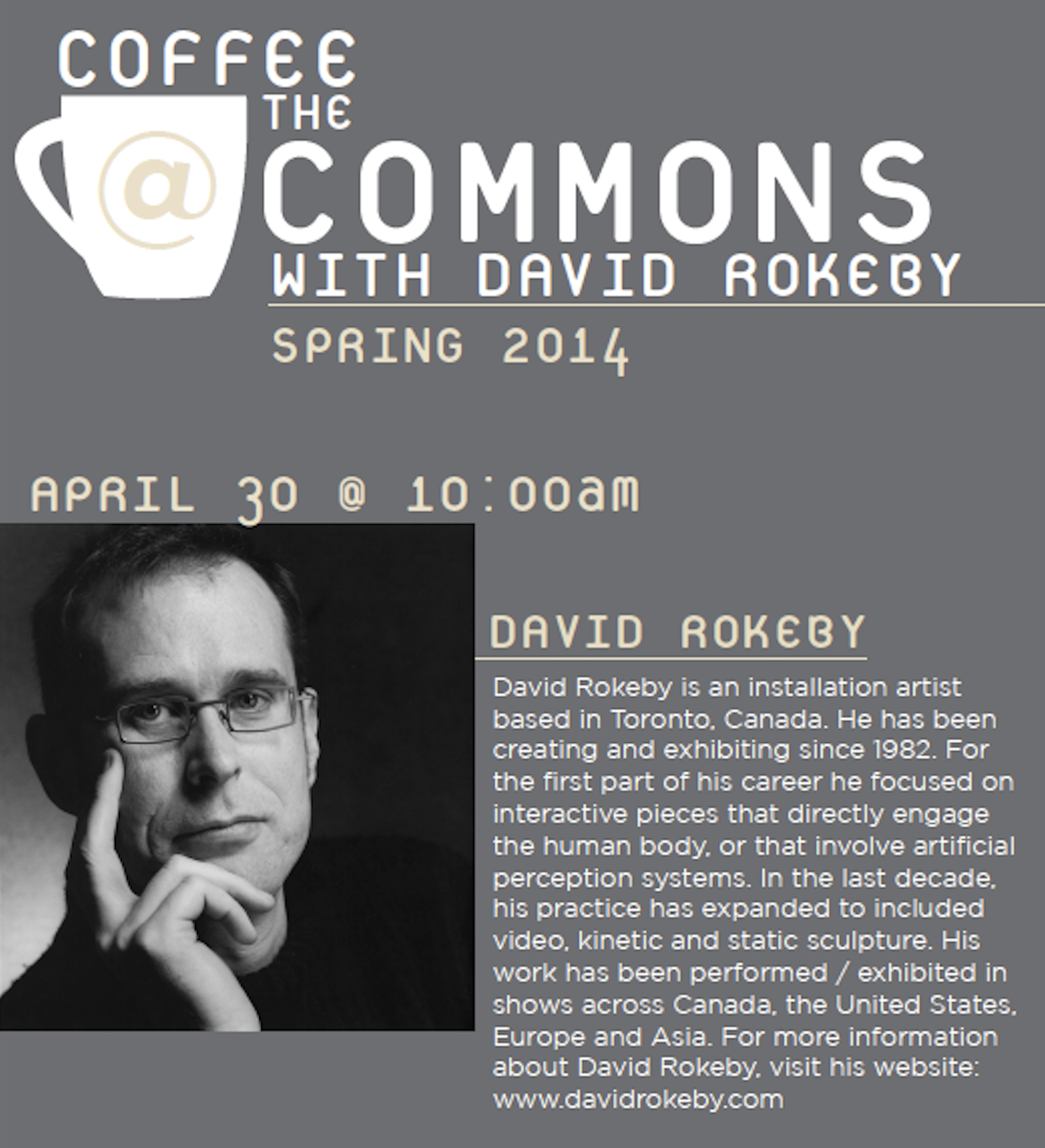 April 18, 2014 - Mark Klett, Photographer
Mark Klett photographs the intersection of cultures, landscapes, and time. His background includes working as a geologist before turning to photography. He established his artistic perspective on the American West landscape as the chief photographer for the Rephotographic Survey Project (1977-79), which re-photographed Western sites first captured by surveyors in late 1800s. Klett has received fellowships from the Guggenheim Foundation, the National Endowment for the Arts, the Buhl Foundation, and the Japan/U.S. Friendship Commission. His work has been exhibited and collected both nationally and internationally for over 30 years and is held in over 80 museum collections worldwide. He is the author of fifteen books, including the recently published Reconstructing the View (University of California Press, 2012, with Rebecca Senf and Byron Wolfe), Wendover: The Half-Life or History (Radius Press, 2011, with William Fox), Saguaros (Radius Press, 2007, with Gregory McNamee), and Yosemite in Time (Trinity University Press, 2005, with Rebecca Solnit and Byron Wolfe). Mark Klett is Regents' Professor of Art at Arizona State University in Tempe, Arizona.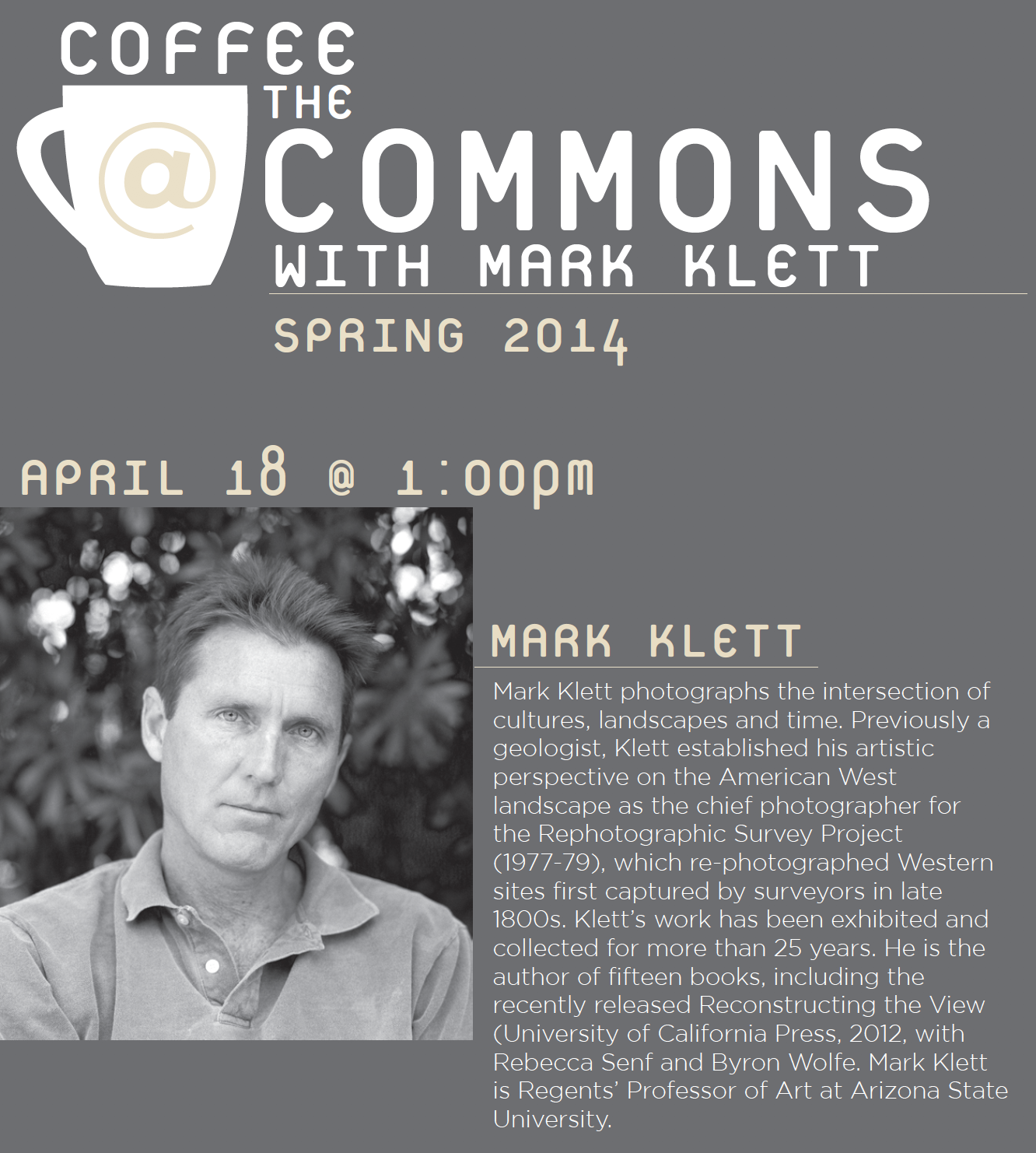 September 25, 2013 - Joachim Schmid, Photographer
A conversation with Berlin-based artist Joachim Schmid about making artist's books in the age of the Internet, digital photography, online photo-sharing, and print-on-demand. Audience members are encouraged to familiarize themselves with Schmid's work ahead of time, as the dialogue between artist and audience will comprise the majority of the event. For more information about Schmid's artistic pursuits and examples of his work, see his website: http://schmid.wordpress.com/. The event is presented in conjunction with Data & Democracy.