Data & Democracy
Every day humans are bombarded with an excess of information, far greater than can be processed consciously. With Data & Democracy, The Commons will explore the current state of access to information and the consequences of such exposure. Through talks, Idea Cafés, and other programming, we seek to investigate the ways in which humans create and manage information as well as the ways in which they are bound by it. Possible questions include: What responsibilities have we inherited in this age of connectedness? What complications plague our access to so much information? What information is actually private? How do our management and storage of information affect us? What freedoms and choices are we willing to surrender to silicon and algorithms? Where do we draw the line when it comes to sharing personal information?
News Release: Free Speech on a University Campus
News Release: Experts to discuss intersection of free speech, social media
Understanding Free Speech
Opening Statements: Stefan M. Bradley, Associate Professor of History, St. Louis University Connie Burk, Executive Director, the NW Network Susan Kruth, Senior Program Officer, Legal and Public Advocacy, FIRE Frank LoMonte, Executive Director, Student Press Law Center Moderated Questions: Jeff Chasen, Associate Vice Provost, Integrity & Compliance Response: Betsy Esch, American Studies Jon Peters, Journalism Abdoulie Njai, Director of Diversity and Inclusion, Student Senate Cécile Accilien, African & African-American Studies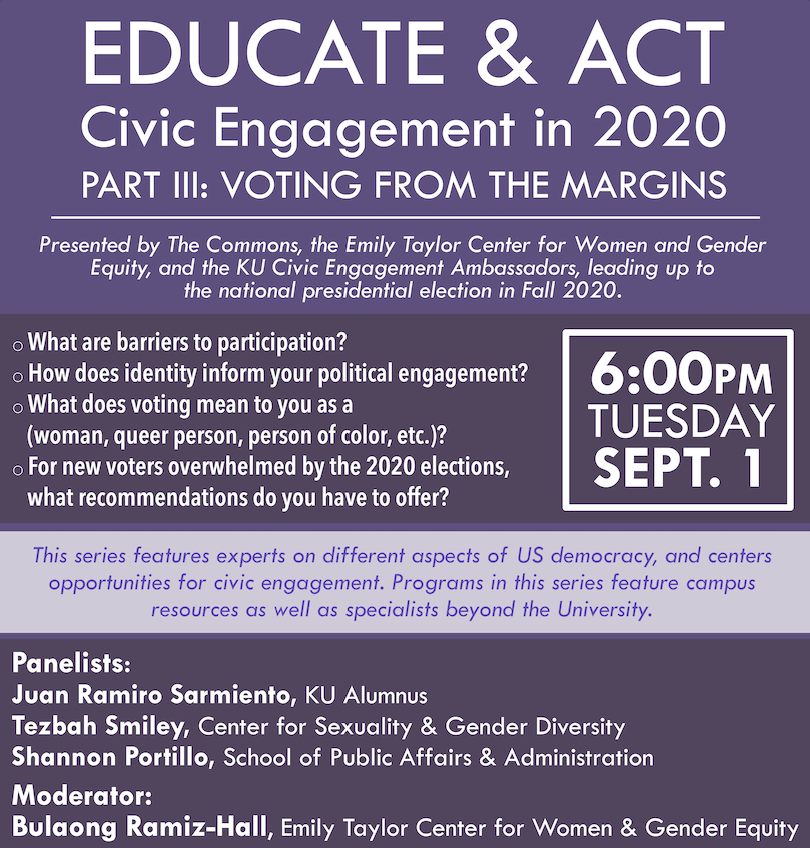 Educate & Act: Voting from the Margins
What are barriers to participation?
How does identity inform your political engagement?
What does voting mean to you?
What might you suggest for new voters?

Panelists:
Juan Ramiro Sarmiento, KU Alumnus
Tezbah Smiley, Center for Sexuality & Gender Diversity
Shannon Portillo, School of Public Affairs & Administration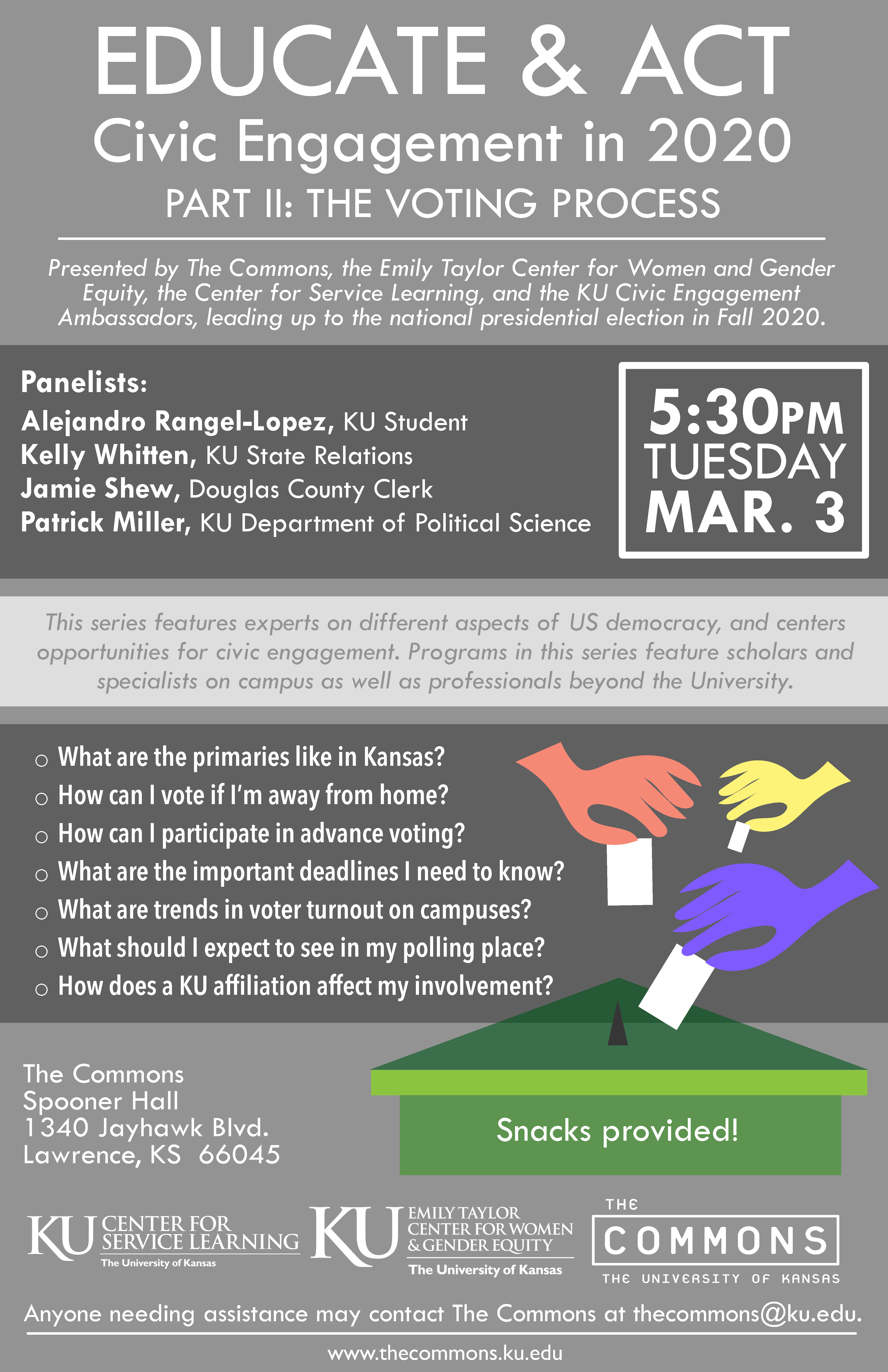 Educate & Act: The Voting Process
-What are the primaries like in Kansas?
-How can I vote if I'm away from home?
-How can I participate in advance voting?
-What are the important deadlines I need to know?
-What are trends in voter turnout on campuses?
-What should I expect to see in my polling place?
-How does a KU affiliation affect my involvement?

Panelists:
Alejandro Rangel-Lopez, KU Student
Kelly Whitten, KU State Relations
Jamie Shew, Douglas County Clerk
Patrick Miller, KU Department of Political Science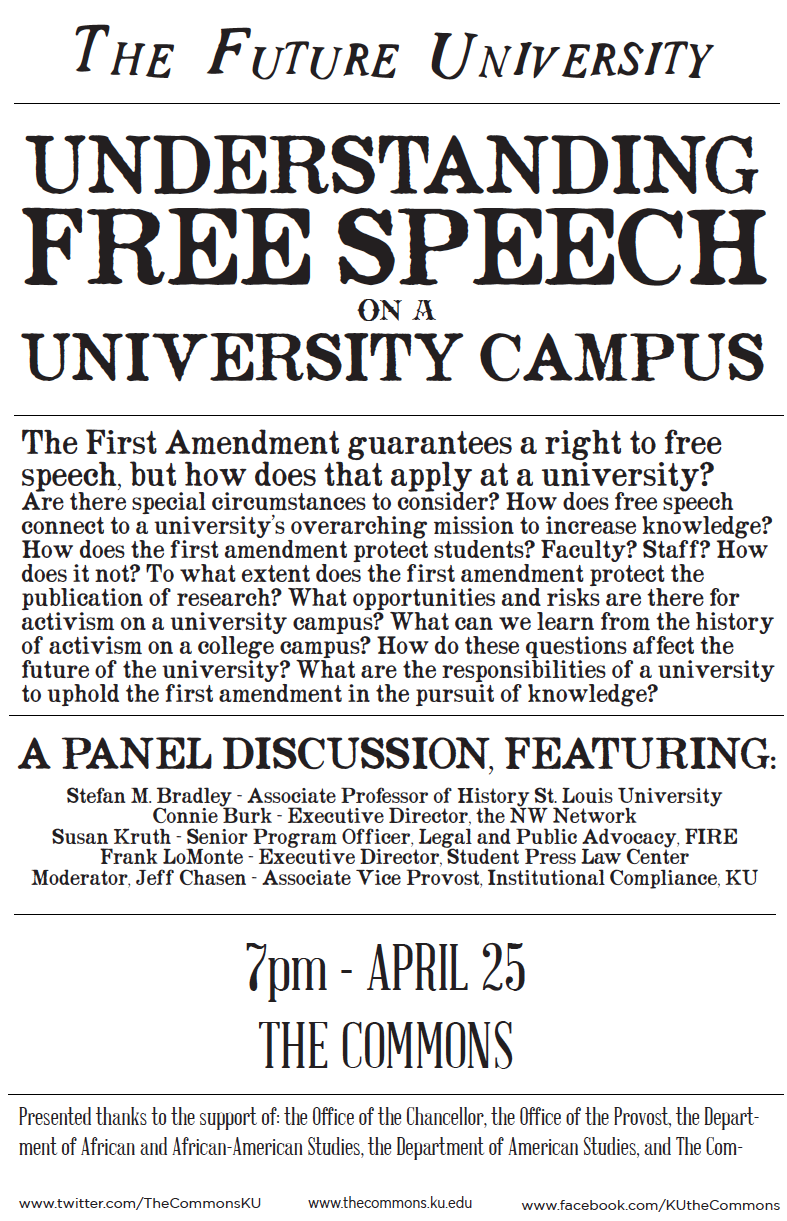 Free Speech on a University Campus
The First Amendment guarantees a right to free speech, but how does that apply at a university? How does the First Amendment affect a university's ability to promote the discussion and debate of ideas? How does the concept of free speech intersect with free thinking? Does the First Amendment apply differently to students, staff, and faculty? To what extent does the First Amendment protect the dissemination of research? What opportunities and risks are there for activism and advocacy among students, staff, and faculty? What can we learn from the history of activism on a college campus? How do these questions affect the future of universities?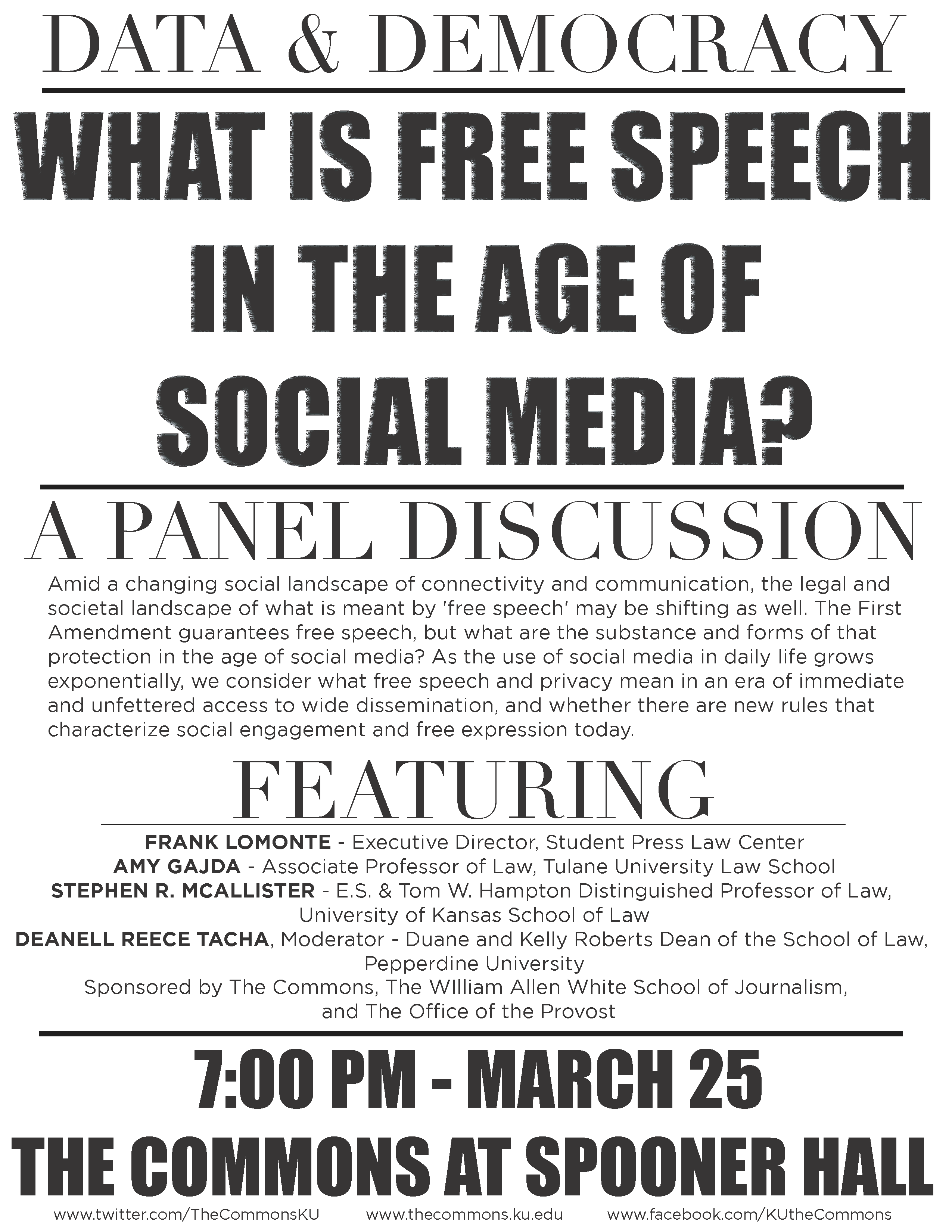 Free Speech on Social Media
Amid a changing social landscape of connectivity and communication, the legal and societal landscape of what is meant by 'free speech' may be shifting as well. The First Amendment guarantees free speech, but what are the substance and forms of that protection in the age of social media? As the use of social media in daily life grows exponentially, we consider what free speech and privacy mean in an era of immediate and unfettered access to wide dissemination, and whether there are new rules that characterize social engagement and free expression today.